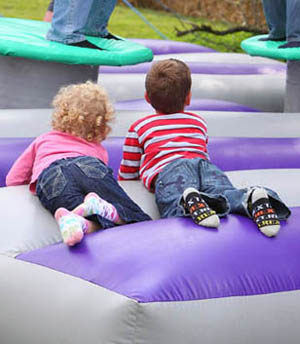 As ever the week has flown by and Jenny and I have already sat down and mapped out the next eight weeks or so in the run up to Burghley and the Australian final trial event at Hartpury. It will all come around very fast and so it's important to try and make sure we have an overall plan with the specifics worked through in terms of  fittening  programmes, dressage training, show jump match practice and cross country schooling.
A plan helps me feel in control – without it each week can easily become a whirlwind and time can fly by especially when we are managing the schedules and preparation of a range of different horses each with their own needs and competition objectives.
I went show jumping at Weston Lawns yesterday. I took Tim, Hipp and Harry – I felt after Salperton that Harry needed some more match practice to wake him up a bit, he's got a good jump and bags of scope but needs motivating and waking up in order to fire on all cylinders. With Hipp and Tim I want to just get some more match practice jumping slightly bigger  and more technical show jump tracks on a good surface – I'm still in reality very much trying to get to know Tim and so time in the ring is very helpful and needed; jumping him at home is useful but nothing beats ring practice. With Hipp I feel the same – he and I benefit from consistently jumping bigger tracks together it gets our collective eye in and builds my confidence as a rider.
All the horses went well with Hipp and Harry getting in to the jump off and Tim having one down. I've been experimenting with bits and warm up routines with Tim but feel I'm beginning to form a clear plan in my mind – we shall see how it works out over time!
At home I'm really pleased with how Vinnie, a young race horse that is part of a syndicate of a good friend, is going. I've had him in to get started – he's been such a pleasure to work with and break, I wish they were all like him.  The girls are also doing well in their lessons we have a lot of laughs and jokes as well as getting the job done. Mary will be out with Keedy this weekend at Purston Manor.
I've been trying to organise our hay supplies for the coming year. It always involves a little guess work and juggling as it's never clear who is going to make what quality, when, and the whole game of what the price is going to be never ceases to amaze me – sadly I've never been much good at poker, a skill that would stand you in good stead for buying meadow hay!
Josh and Ursula have had another first today – their first sports day, competing in the running and dressing up races. Much fun was had by all but no prizes. They both did well and enjoyed themselves – there has been much coaching on the importance of taking part and not always winning – confusing to them as the retort is then, 'but why do you want to win then daddy?'…… a topic for another day.
Off to Purston tomorrow with Fin and two short term outside rides Moose and McKenzie, all nice horses so it should be a good day, although I'm concerned about the ground as we desperately need some rain. I'll keep an open mind and see what we find tomorrow.
Cheers,
Bill
Posted 2nd July