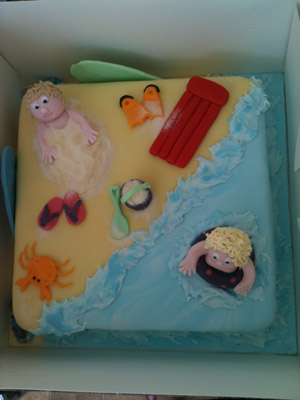 I was at Purston bright and early this morning as I was first to go on Mr McKenzie, a new short term ride for me – he belongs to Theresa who I used to teach. She is currently pregnant with her second child and so I'm doing a few events on him. He was first to go as Theresa had her sister's wedding to get to!
McKenzie went really well, he's a pleasure to ride. He did a very polite test and then show jumped really well bar one naughty spook at the first fence and also went well cross country. He's a little green but will come quickly I think.
I also had Fin doing his last BE100 before moving up to Novice at Aston; he did a good dressage to lead the section on 31.5 and then jumped a lovely show jump round. I was really pleased with him, his jump is improving all the time and he just feels to be getting better and better. I didn't run him cross country as the ground was  firm and he is very confident cross country and will be fine to make the step up next time at Aston I feel.
I also had Moose (Lord of the Bog), another short term outside ride for Miranda. Moose and I are still building a partnership so he also ran cross country as his next outing is the Novice at Aston. His flatwork is improving all the time, as is his show jumping. He has a great gallop stride (he's an ex racehorse) and eats up the ground cross country so sadly I got time penalties for going to fast (very frustrating as I was keen to win a rosette for Moose's owner). Never mind, his day will come.
The Organisers had tried their best with the ground, aggravating it everywhere – dressage warm ups and arenas and all jumping spaces – however the reality is we've had very little rain and so it is not ideal ground anywhere right now even with the effort they go to and old turf. Water is what we need and lots of it!
The show jump track at Purston in the BE100 was a little different in terms of layout and was a welcome change to many events. There was variety in terms of positioning of fences which I think is good and the fences themselves are colourful which gives the young horses in particular lots to look at.
We made our way home from Purston as quickly as was feasible as my parents are still with us, now back from London and today is my mum's birthday. So we got home to have cake and get cleaned up to head out for an early birthday meal with Joshua and Ursula in tow. We had a lovely evening – we are lucky to have some great  local pubs with fantastic food, not least The Churchill Arms, in Paxford where we went this evening.
There's no rest for the wicked though as Jenny and I are taking four horses cross country schooling at 6.00am tomorrow morning, so that we can get it done without eating in to too much of what will be my parents last day with us, as they head back to Australia on Monday. I want to school Hipp and Tim over a few cross country fences before Barbury and Jenny is coming along with a couple of our 'projects' that we are producing between us.
I'm then taking up rain dancing as I'm really keen that we get some before Barbury so that we all have good ground to run on and so that the grass grows so that hay is not in short supply and costing the earth.
Cheers,
Bill
Posted 3rd July