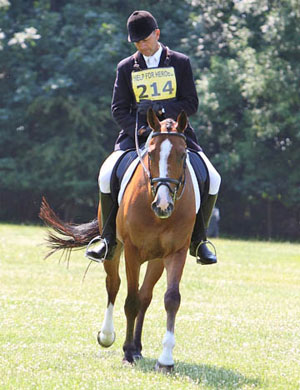 It's been a long day and my head hurts from concentrating! I've been at Hunters near Cirencester today doing dressage most of the day. I took all of the horses that I'm running at Barbury in the CIC classes as they had put on special practice dressage classes to allow us all to get some match practice ahead of the real event.
Harry and Magnus tried hard in the CIC** test and Coco did some lovely work but was naughty in the walk, prancing about! Coco ended up 3rd but there wasn't much between the horses in the marking in the section. Tim and Hipp did the CIC*** test; I thought Tim did a lovely test but the judge didn't agree, it goes that way sometimes! Hipp did a respectable test winning the class, but I'm well aware I'll need to continue to focus on achieving my best to hold my own at Barbury in what will be a strong field.
It was a swift turn around to get home for Nick to shoe some of the horses and for Tracy to put the finishing touches to saddles we've been having tweaked for some of the horses. I also had a few to ride when I got home, no rest for the wicked, but at least the sun is shining, although I'd love a bit of rain – boring I know, I need to put another record on!
My parents left this morning for the long trip back to Oz which was sad. It's been lovely to have them here for the last six weeks or so, the time has flown by. It's great that they are both still in good health and able to make the long trip over.
Off to the gallops tomorrow and horses to ride at home before a trip to Shipton Moyne on Wednesday and then the action starts at Barbury bright and early on Thursday with Tim up second to go in the CIC*** and Hipp not far behind at number 17.
Will keep you all informed.
Cheers,
Bill
Posted 5th July