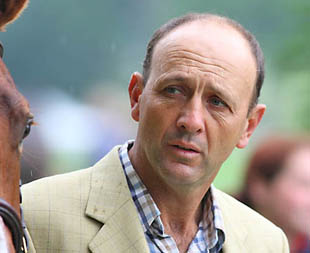 It's been one of those days where things don't quite go as you'd like them to, so often the case with horses…. I rode at the crack of dawn this morning (4.30am starts are getting rather dull) and then Eleanore and I headed off to Barbury.
Tim worked in well for his dressage with help from Bettina and tried really hard in his test, for a satisfactory score of 56. There is more to come and our partnership is improving all the time, I only wish he (and I for that matter!) were both four years younger as with time I think he could do a top test. It was great having Bettina there as eyes on the ground, the instruction gives me lots of confidence.
I then got ready with Hipp and to cut a long story short it was a below par test – lots of small errors which summed up to not a great mark. On the positive side the outline was better throughout the test but he broke in the first medium (my fault for pushing before he was balanced), jogged in the walk and hopped in one change. So all in all not good enough – I'm disappointed, but he is a sensitive horse and he was on edge – he needs to be out there competing more often and to be fair to him he's not had many outings since Badminton. He will benefit from Aston and Gatcombe before Hartpury and then I will need to find other events to take him to to keep his eye in and keep him 'on the job' and relaxed in the dressage. He scored a 55, so is also mid field just ahead of Tim. With many more still to come, I was never planning to run flat out cross country, but I'm still frustrated as I know Hipp and I can do a very smart test….
I had to get my head straight and focus on Harry after Hipp as there was no point crying over spilt milk and I had work to do to ensure I gave Harry the best ride possible. I've been experimenting with what is the right length of warm up for Harry pre his dressage test; he seems to go best with a good walk and then a very short warm up and then after the test a good piece of work to ensure he's done enough to keep him on song for the other challenges ahead of him. It seems to be working as he scored a very respectable 48 and is in 6th place with half the field gone roughly so I was really pleased with him. He's still not experience at this level, so it's promising for the future – he is I think going to be a very competitive horse over time as he doesn't find any of it hard, and does everything very easily – in fact he verges on being lazy!
We then had a quick turn around for the 3 star trot up but that also didn't go according to plan as we showed up at 14.42 and although the ground jury were still physically there they wouldn't see the horses as the trot up sign in ended at 14.40pm. This was really frustrating as I know rules are rules but it means I have to bring the horses back tomorrow just to trot up which is a pain for them and for me. Sometimes days just work out this way and it's been one of those…
I'm back tomorrow for Magnus, Coco and Figgy's dressage and have Alex and Tommy in the BYEH 5 Year Old class – and more trotting up, hopefully without the drama. I will have a keen eye on my watch as I think Jenny will blow a gasket if I stuff it up two days running!
I've not yet had a chance to have a walk of the track, but the ground I'm told is good on the cross country and it certainly is surprisingly good in the dressage warm up areas. I'm looking forward to getting out and walking the courses tomorrow.
On a different note I've read with interest Kristina Cook's article on foreign riders in the UK; I will  be having a word with her at Barbury this weekend!
Cheers,
Bill
8th July