It was another mixed day at Barbury today. Another early start as I wanted to work some horses before heading to Barbury, in particular I wanted to jump Hipp and Tim over some accuracy fences in the school to get their eye in (and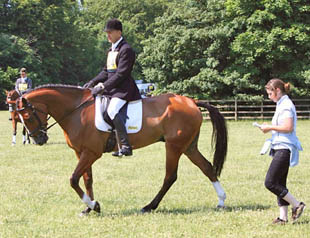 mine!)
We headed off to Barbury with a clear plan and strict instructions from base to not miss the trot ups! Luckily Eleanore came with me so she ensured that was all sorted and as expected all went smoothly with me not involved! As for the event itself the day was one that got better as it went along…
Figgy did a disappointing test; she worked in well but got tense in the ring and so didn't score well. I have confidence that this is just a blip and that she will do well in time and has the potential to progress on.
I then had Alex and Tommy in the BYEH class – I've never really got to grips with these classes given the subjective nature of them in terms of there being some parallels to showing so it wasn't a surprise to me that the horses didn't qualify sadly! Maybe I'm just being grumpy as they didn't but it is frustrating that the logic as to what does/does not do well is not always clear to me! Alex was green in the ring so I can understand why it wasn't his day BUT Tommy went very sweetly and didn't seem to do anything wrong – they just didn't like him enough. Never mind, no point stressing about it. Both horses have two more chances to qualify so I'm hoping we will have better luck at one of the other qualifiers.
Magnus and Coco then did their dressage in the afternoon. Both tried hard and I was pleased with their work. They were both rideable and did their best in the ring giving good performances respectively relative to where each of them is at in their training and experience. Magnus is on a 54 and Coco a 43, so pleasing on both counts.
I'm off to walk the courses now in the peace of the end of the day so will fill you in on those tomorrow. Figgy is up early in the novice and then all the two star horses show jump and Magnus and Harry go cross country so it will be another interesting day.
Cheers,
Bill
Posted 9th July