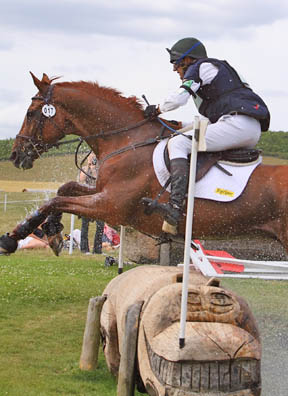 It was back bright and early for the fourth and final day of Barbury today – Hipp and Tim were both show jumping in the morning session, and although they weren't on until a fairly civilised time I had to get there early to walk the track as the class started jumping at 8.00am.
The show jump track was square, no ascending oxers to be seen, so I thought it would take some jumping. The main ring at Barbury is in an amphitheatre with a mound at one end with a water feature in which they use for the cross country. Its an imposing arena which gets the crowds and creates a real atmosphere. The time is often deceptively hard to get as they use the mound as part of the course and you have to move forwards between fences while staying in balance.
I was thrilled with both Hipp and Tim as they jumped their socks off, and I was also pleased with how I rode for once! Tim tried his heart out and had one rail which was very pleasing. Hipp was really pinging off the floor and jumped a lovely clear. I learnt more again about each horse from this experience, about how to ride them in the ring over bigger tracks, so all in all a good start to the day.
I then rode Coco around the 2 star cross country. He went fantastically, very within himself, and felt really mature and confident. He's changed over the last few years and has learnt to gallop and jump at speed without over jumping – I do believe he has the potential to be the best event horse I've ever had. I'm pleased for the Kemps as they were able to watch him run and Barbury is such a good viewing course that they got to see a lot which was great. Coco ended up in third place which was good as again the 2 star cross country track seemed to cause its fair share of trouble.
I rewalked the 3 star cross country with Jenny and Matt (who owns and used to ride Tim) to be clear on my lines and speed of approach and distances in combinations, and 'plan b' for each fence etc! They had done a lot of work on the ground and I don't think you could have got better ground at this time of year, especially given how dry its been.
Tim went first and I was thrilled with him. I had decided to take on all the direct routes as I wanted to know how he'd respond to the various questions. There were a couple of wishing wells early on at 5/6 on a long two strides on an acute direct line or bending 3 strides and he jumped these brilliantly. There was then a mound with an owl hole on top of it and drop down on 4 or 5 strides to two off set houses on 1 long stride; again I went straight and Tim jumped it very well. The other fence that was causing a fair few glance offs was a very skinny brush arrowhead quite a long way around the course at approximately fence 20. It was set in the quarry near the bottom of a steep slope with a sharp turn after it up a steep bank to a jump out. Again Tim jumped this beautifully. Our only whoopsie was at the sunken road where you went over a rail spread, bounce down a step three strides to a skinny out the other side of the sunken road – he glanced off the skinny, but not naughtiness – he just didn't see it and lock on and understand the question. So sadly a 20 penalties but still I was thrilled with him and felt I could confidently head to Burghley on that round.
Hipp was second to go cross country of my two 3 star horses and I also went straight everywhere with him as I want to use events like today to test the horses and myself. He went like a top – he's such a quick horse to ride across country as he is light on his feet, skips along, doesn't pull and moves across his fences. He was great today, answered every question, with no really hairy moments; he was slightly off the  skinny brush fence but was very honest and looked between the flags and went, it was a cracking round.
So all in all a good days competition.
Cheers,
Bill
Posted 11th July