It's been a busy couple of weeks but we've had time (or rather Gracey has had time!) to get Ursula and Joshua aquainted with Slipper, a very exciting new pony that they are going to be riding. They went to try her a few days ago and loved her, and she loved them. I was a very proud dad as apparently the first questions Josh and Urssie asked were 'what does she like to eat?' and 'does she like cuddles?' respectively – what well rounded kids, but I am biased!
Peggy, who has been with us for the last five years is beginning to find the amount Joshua and Ursula want to do a little wearing. She is infamous for her ability to buck if asked to go at more than a sedate trot – but in walk or trot she is completely bomb proof and 100% trustworthy on and off the lead rein. Peggy is going to be going to our good friends Joss and Juliette Gray for their children to learn to ride and potter around on and Slipper is joining Team Levett.
This is a great outcome all round as Peggy needs a home where she will continue to be pampered and Josh and Urssie need a pony to make the next step up. The timing couldn't be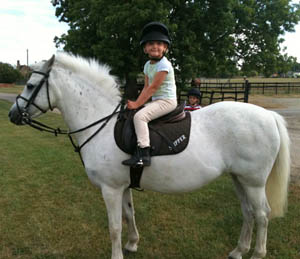 better with pony club camp around the corner. I'd like to take the credit for this master plan but sadly none of it is down to me, and this time Gracey must take a big chunk of the credit.
We also have two new working pupil horses joined the team. Puzzle has sadly gone home to his owner with a minor injury and Bob and Bailey have joined us. Bob is a ex-2 star horse looking for a slightly gentler pace of life and Bailey is 22 years young and belongs to Grace's family. The girls are having fun with him over the summer.
I also have the ride on Moose, a horse I've been riding temporarily for his owner Miranda, but she's asked me to ride him on a permanent basis to see how far he can go, which is a nice project to have.
So lots of comings and goings at Team Levett – as ever never a dull moment.
Cheers,
Bill
Posted 14th July