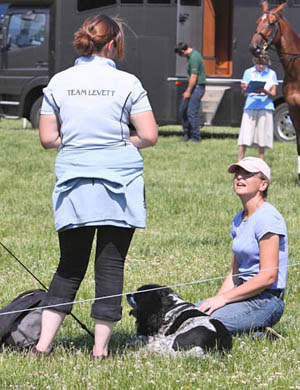 We have just finished a good couple of days at Homme House, a new event in Herefordshire just off the M50. I'm probably biased as I've had a good couple of days BUT I honestly think it's a good new addition to the calendar. It's set in an impressive property and runs over old turf across parkland. They have done a good job making the most of the interesting and undulating terrain to create some good courses, and have clearly invested a fair amount of money for example in a water jump and coffin complex.
They had used the terrain creatively to create a fair few accuracy questions and some more unusual fences. The whole event is quite compact which is always a bonus, with the dressage arenas away from the cross country on flat ground. They had worked hard on the ground and that plus a bit of rain and old turf made the going very acceptable.
All of the horses went well – long may the roll continue! Alex won the Lycett 5 Year Old qualifier on a 22 dressage witha double clear and Womble won a BE100 section. It was my first outing on Womble and he has a slightly chequered past as he can be nappy and opinionated but he went well today. He wasn't until the end of the day so I gave him some work earlier to keep him sweet. He did a polite test scoring 25 to lead the dressage and then jumped a double clear; he did have one moment in the show jumping but I firmly told him that napping wasn't an option and he got on with the job. I was most pleased with the cross country where I was thinking he might nap for home but he got on with it – I think the cross country schooling sessions have paid off. Anyway very pleasing.
I was also pleased for Alex's owners that he qualified for the 5Year Old Finals, he's a lovely horse and I continue to have faith that he will make up in to a top horse.
Tommy jumped a nice double clear in a BE100 section but was a bit off the place in the dressage, not really sure why, maybe a little inattentive and/or playing with his tongue. However you cannot over analyse these things as dressage marking is subjective and judges can be looking for different things in terms of a horse's way of going.
Fin was doing his second novice. He tried hard in the dressage but I need to continue to improve the rideability to the show jumps as he came against me a bit and had a couple down. I'm going to play around with bits and do some more exercises at home. It will come, he's just young. I was really pleased with him cross country as it was a beefy novice with a few questions he'd not seen before: an into space at fence 4 followed by a very skinny tree trunk to another accuracy question – a good fence as it was very safe but required confident accurate riding.
Eleanore and Jenny also had a good event, Eleanore finishing third in an intro with Bailey and Jenny winning on Mac. They both did good dressage tests and jumped double clears so I'm really pleased for them as they both work hard and deserve some success. Buzz also went well in the BE100. Blue continues to make Jenny work hard and entertain us all as he learns his job. He was quite unruly in the dressage, neighing a lot, but jumped a lovely show jump round for an unlucky four penalties and then was a bit naughty at the start of cross country but once he got going he went well. He will come given time.
The most amusing part of the event was that both Jenny and I picked up prizes for the highest place veterans! The sad reality is we both have to accept we are now eligible for these classes! Anyway a good couple of days and definitely a nice event that we will be going back to.
Tomorrow it's the gallops and schooling horses before big Gatcombe which starts on Friday – it's one of my favourite events and I've had some good times there over the years but this year is set to be a little quieter. I have Harry in the Novice Champs, Bella in the Advanced hoping for a qualifying run and Coco in the Intermediate Champs but he won't run cross country as he's aiming for Hartpury where I'm hoping to get a CIC3star qualification under his belt.
Let's hope the rain keeps up and that it's falling this week at Gatcombe as it is needed there and indeed everywhere. I cannot remember a time where it has persistently been so dry since I came to the UK. It's beginning to feel like home!
Cheers,
Bill
Posted 4th August