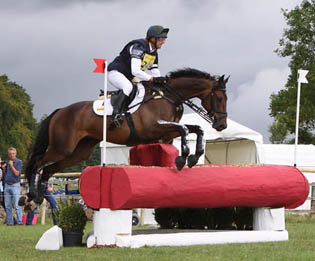 Well as expected it's not been a day of prizes today, but to be honest I'd expected it to be a quieter weekend and in many ways that's a good thing as the ground is still so firm, and if one is well placed its always a tough one to evaluate what the 'right thing' to do is – as owners of course want to win, especially at 'the big ones' but the horses are so precious and one always wants to try and avoid running on firm ground too often.
We still desperately need rain; the team at Gatcombe have done a lot of work on the ground clearly, but the fact remains that a few inches below the surface the ground remains very firm and the only thing that will fix that is some persistent significant rain fall. I found that the ground today rode well, better than one might expect, it's old turf AND they've done a lot of work, so as I say they've definitely taken the sting out of it.
I had Bella and Harry at Gatcombe today and the pressure was on to try and get a qualifying mark in the Advanced with Bella, and I can sleep well tonight as we did it. She show jumped really well, just touching one rail and then went well cross country. I had one tricky moment at the mushrooms where the stride didn't really come up and we had to shuffle to get to the other side, but apart from that it was a good round. I find the distance to the mushroom fence doesn't really work – Jenny has reminded me that I said the same last year so at least I'm consistent. The mushroom is at the top of a very steep bank and it's a bit of a lottery how you get up the bank and hence the distance to the mushroom is more art than science. Anyway we got the job done and the all important qualification so Burghley here we come.
I also had Harry in the Novice Champs. I was disappointed with him in the dressage yesterday as he has been scoring really well, but sometimes it's not meant to be. The story continued in much the same vein today – Harry had two fences down show jumping. It was a rather inconsistent round, some fences he jumped really well and was really pinging and others he wasn't and so I was a little deflated but at least there was no pressure to gallop flat out around the cross country. Frustratingly we had prepared him to be able to have a go, but it was not worth having a crack as he was lying mid field, so we all made the decision to save him for another day. I still ran him cross country as it was good experience for him but I didn't go quickly. He went a little green in parts and needed plenty of encouragement, but coped pretty well. He had one blip ducking out at the top of the steps down at the last minute so I had to represent and kick him down them. I think the size of the steps somewhat surprised him and he's quick when he wants to be and he ducked out to the side before I'd had a chance.
I'm back in the morning for Coco show jumping very early in the main ring. Coco is still lying well up there in the top few after dressage however I'm not going to run him cross country, he's instead going to aim for Hartpury CIC*** as I'm keen to try and get him qualified, but yet again we need some rain before I will feel confident about running him cross country. Let's  hope it buckets it down in the next few days before Hartpury as I'm sure Magnus and Figgy would also appreciate the rain as they are both making their three day event debut at Hartpury.
Cheers,
Bill
Posted 7th August