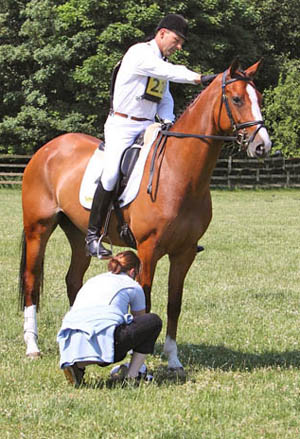 Yesterday I had said that today/this event was going to be a fact finding mission with all three horses and at the end of Saturday I couldn't be more pleased with all three of them. They all really delivered today.
Figgy was on first in the CCI* and it was a lot for her to take on. She was very good in terms of her jumping all the way around the track BUT she was extremely strong – she didn't really settled until literally the last fence. This took me rather by surprise as she's never been strong before, but given that she was I will have a very different warm up plan for her next time pre the cross country. Not sure why she got strong, she wasn't particularly lit up in the start box and there weren't many crowds as I was on so early, but she was – so I need to plan differently next time. Luckily she is a very good jumper and she jumped really well all the way around, despite being strong. On a strong horse it can be hard to pick up the distances you want and get the strides I want to fences, so often on the round I had to simply hold her in to the bottom of fences. Luckily she has a very long stride and so I was still able to make the time. I was particularly pleased that she didn't look at any of the ditches which has been 'her thing' in the past. The most difficult fence for us was two skinnies coming down a hill on a 4 or 5 stride related line as she wasn't really listening and as I didn't have the rideability – it was all I could do to point her at the fence, but she jumped it, so job done.
Magnus also went clear inside the time cross country and was a very good boy. He gave me a great ride and felt very confident, light on his feet, and he galloped well. He was good on his lines and kept his ears pricked looking for the next fence. After our blip at Barbury where he got eliminated at a skinny mushroom fence I've done lots of schooling over lines and accuracy questions. As I said at the time I think half the Barbury problem was he'd never run out before and when he did he thought that was an option – well he definitely now knows it's not! He's given me two top rides since, at Wilton and now here. I couldn't be more pleased with him. I was particularly impressed with how light on his feet he was for a big horse, for example there is a decent brush in to the water and he felt great on his feet landing over that. He was also great on some of the trickier lines such as a brush with ground dropping away, 4 strides to two skinny brushes on two strides. He was also good at questions he'd not seen before such as a log brush to an open ditch followed by another skinny. The time was not a shoe in and you had to keep galloping and Magnus did just that, finishing 11 seconds under the optimum time.
Coco was last of the day in the CIC***, his first event at this level. I got the dressage score wrong last night, he was actually on a 44 and lying in second place to Sam Griffiths on Happy Times! Today no one else has gone in front of him and prior to the show jumping he is lying equal second on 44 with Laura Collett. I couldn't quite believe it. What a good horse, he's only 8 and competing against all those great horses. I'm very, very proud of him – he's come a long way since the green hairy four year old that arrived in our yard, bought off a DVD from Ireland via Vere Phillips. He's always been incredibly grumpy but incredibly talented.
Anyway today he jumped a cracking show jump round, the best he's ever jumped I think, to jump clear. It was a big square track and caused enough problems. There were enough clears but also lots of four faults – I was so thrilled with him, he performed like a top. Anyway Sam, sadly, had one down and so Coco is now in joint first place with Laura Collett…. very exciting.
I'm not planning to go flat out tomorrow on Coco – that would be a stupid thing to do as this is his first three star and he's only done one advanced prior to this run at Aston, which was not the biggest advanced track (a nice first time one, which is what we needed and wanted). So I will be riding with my head tomorrow as it's all about giving him a good experience – he is after all still only 8. I  hope he's got plenty of top performances ahead of him, it's about giving him the experience and mileage with as little wear and tear as possible on him.
Magnus and Figgy seem to have both pulled up well so far and Eleanore and Thea are, as usual, doing a great job making sure the horses get the right care in terms of icing, relaxation and leg stretches to pick at grass. I will trot them up again later this evening to be sure they are OK. The ground rode remarkably well, the persistent rain overnight, falling on ground that had already been spiked made for good ground which was a great relief – the dancing clearly worked!
Cheers,
Bill
Posted 14th August