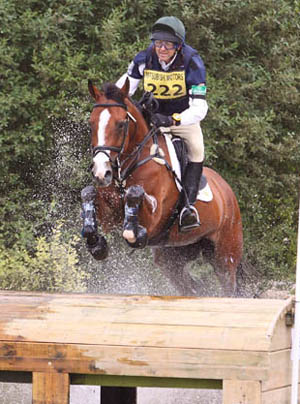 Today has been long and rather unusual. I trotted Figgy and Magnus up at 6.00am and they both looked good so they then went for a walk hack with the girls while I walked the CIC3star course again. Both Magnus and Figgy had an uneventful time at the trot up which is always a relief. Then it was on to the show jumping for them and cross country for Coco.
To cut a long story short I was frustrated to have a couple of rails on both Figgy and Magnus. Figgy just got a little bit tense and 'looky' over the first four fences, had two of them and then settled, I could feel her take a breath and then she jumped the rest of the round really well. A good learning experience for her, and she'll come on a lot from the whole experience. I continue to believe she's got some good performances in her with more training and experience.
Magnus also had two rails, both parts of the double. Apparently they were both late falling poles and it felt like a good round but sometimes the luck rolls that way and it is what it is. Magnus is a good jumper and he tried hard, it was just not his day – but it will come, although he is for sale and we will actively market him for his owners now that he has a 2 star under his belt.
Coco was the good luck story of the day – he went like a top cross country and I couldn't have been more pleased with him. As you know I was never planning to go flat out given it was his first time at this level. We got in to a good rhythm, I was seeing good shots and he ate it all up in his stride. He was confident the whole way round and took it all in like a more experience horse. I didn't get the stride I wanted to the second element of a corner combination at fence 13 and he was a good horse to chip in and get to the other side, and even this blip (completely my fault) didn't phase him. In the past when he's gotten a little green he has sometimes overjumped but I was thrilled as today he remained confident and secure the whole way round the track – such a class horse, it is a complete pleasure to ride him.
My luck with Coco was at the fence I mentioned above where he had to chip in to make the corner, as we took the flag with us. I was positive I had stayed the correct side of the flag – admittedly it was a close shave but I was positive that I had cleared it, hence I kept going and cracked on around the course. When I had finished it became apparent that the fence judges, who initially had given me a clear, had changed their minds giving me a 20 penalties which then technically meant elimination. I then did something I do very rarely. I went and lodged an objection with the TD and then had to sit it out. I was tasked with finding eye witnesses which I did, but luckily these were not needed as there was video footage which was used to review what had happened and as a consequence the 20 penalties were removed and Coco finished a very pleasing 7th in his first CIC3star.
The drama wasn't over however, as there was a dispute over the top placings in the section regarding time penalties. I don't know the details but with a car to play for it was an important call as to who won the class. Sadly this meant for a rather elongated end to the day and several delays in the final prize giving. These things happen sometimes.
Anyway all in all it's been a good event and I'm pleased with all three horses. They've all stepped up to the challenge and come through it well, both in terms of their performances and their physical and mental wellbeing. A job well done, particularly by my back up team who, as ever, worked tirelessly throughout, both at the event and those at home holding the fort.
My next event is Sapey on Tuesday with Fin and Moose in the Novice and Womble in the BE100. Let's hope this run of good outings holds up for several weeks or months (ideally!) to come. I'm then back on Wednesday with Jenny and helping the working pupils who get a well deserved outing.
Ironically Hartpury was the final trial for the Australians for WEG and should have been a run for Hipp and Tim regarding selection. Part of me finds it ironic that Coco did so well, finishing best of the Aussies at this final trial – the world can be both a cruel and ironic place all at the same time. Never mind….
Cheers,
Bill
Posted 15th August