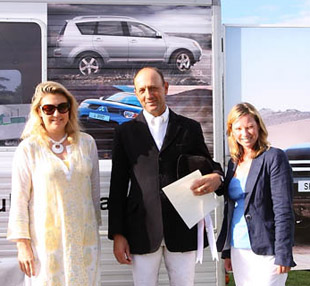 It's been a good day at Highclere, and a good weekend which was nearly great. If it wasn't for 0.1 leading to me missing out on a win with Harry yesterday I would now be the winner of the Stately Homes Challenge which would have been a very welcome surprise!
The Stately Homes Challenge was introduced a couple of years ago and is an accumulator run at Somerley, Longleat, Wilton and Highclere focused on the Intermediate classes. To cut a long story short I was jointly leading it with Zara (Phillips) and no one went in front of us today.
They decided to sort the tie with whoever was closest to the optimum time on the  cross country yesterday and sadly Zara won as she was 3 seconds closer than me. Never mind…. what you've never had you don't miss I guess, although the £5,000 would have come in very handy as we are trying to upgrade our show jumps at the moment. Sadly unlike last year it was only a cash prize to the winner (last year money went down the line). This year there were some interesting and different prizes in kind. I won a cocktail party for 12 guests a Highclere, which will be unusual and I'm sure fun, but not much help re. my show jumps – still a nice prize!
Anyway back to today, I had Magnus and Coco in the Advanced. Coco was a bit fresh and cheeky  in both the dressage and show jumping; he bucked in the middle of his dressage during a flying change and jogged in the walk – but at least he was feeling well, and he still got a respectable mark but wasn't 'top of the class' after the dressage. In the show jumping he had one down and two time penalties – it was causing a fair amount of trouble (not that that is an excuse) with several tricky related lines and I didn't ride the best on one particular line. Never mind, it's a good wake up call for me ahead of Blenheim.
I was very pleased with Magnus today, we didn't win any prizes BUT he went really well for his first advanced. I was pleased with his dressage for where he's at, he tried hard with the new movements which he's not yet established in such as canter half pass. He then went a little green in the show jumping and sadly had four down; he got a little tense and I lost the rideability but I'm confident it will come and he will jump his fair share of clear rounds at this level. He then went like a top cross country, flying around very confident and taking on all the technical questions and combinations. For a big horse he's very nimble on his feet and gallops very easily – I was really really pleased with him as you never really know how they're going to cope at a 'next level' until you give it a go.
Both cross country courses for the Intermediate and Advanced were in parts strong but overall encouraging tracks. The ground was better again today, and the good galloping stretches in between the fences give the horses time to enjoy themselves rather than it all coming up too quickly which can be mentally tough for them. It is unusual to find such good galloping stretches at a one day event – in this respect Highclere is an excellent track for all levels, but especially for the Advanced.
The first part of the course gives you a good bit of time to get in to it on both Intermediate and Advanced tracks. The back end of the course on both tracks is more difficult with a few more questions, for example rails to an open ditch on two strides  then to another set of rails under the trees on an angle in the Intermediate.
In the Advanced a couple of combinations stood out for me, a set of rails down in to a quarry off a turn, which is a difficult fence for a green horse new to Advanced – you could see through down in to the quarry  and it came earlyish in the course. Then at the back end of course there was a pheasant feeder over a mound to a couple of corners three strides apart and little time to get on to the corner after the mound. It was a very sharp turn to get on to the corner and then ride to the second corner, so a tricky test mentaly as well as in terms of rideability of the horse.
All in all a good few days competition.
The next few days are busy at home with me doing a fair amount of teaching and work to be done with all of the horses for their upcoming competitions. Then I'm off to Burghley on Friday with Alex and Tommy for the Young Event Horse Final which should be interesting. Sadly I'll be watching the 'big Burghley' from my arm chair this year, something that I'm gutted about but that's horses.
Cheers,
Bill
Posted 30th August