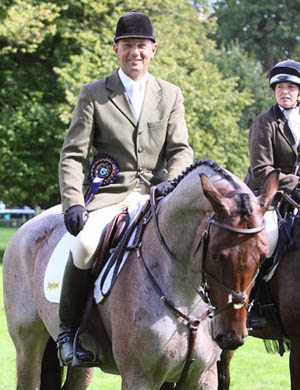 I was at Burghley yesterday for the Five Year Old Young Event Horse final with Tommy and Alex. It's a great day out, and I think all of Tommy and Alex's supporters enjoyed it; Eleanore (who came with me) and I certainly enjoyed the day.
I was amazed, as I usually am, at the number and quality of young horses at the Final. I was pleased with how both horses went, although disappointed that only Tommy made it to the last 10. They run the class in alphabetical order but each year they reverse whether the class starts with A or Z. Unfortunately it was 'A's turn this year so Alex had an early draw and I do think the marks got a little more generous as the event went on, but having said that I'm not sure he would have qualified as he is going through an inattentive young horse phase at the moment and so was a little greener than he can be at his best in both the dressage and jumping phases. But that is the challenge, joy and frustration of young horses – I still enjoy training them, I wouldn't do the job if I didn't!
Anyway Tommy did make it to the last 10 and to cut a long story short he ended up 4th which was great for both the horse and the Prentices who own him. He was pulled in 3rd in the final gallop and ended up overall 4th. I was also really pleased for Nikki Rank that a horse she produced from scratch and recently sold (to Nick Gauntlett) ended up in second place overall – great for her.
I'm gutted not to be at Burghley in the 'main event' but it was nice that the young horses went well. I watched a little dressage after the Young Horse class and walked the cross country. I thought the ground on the cross country was excellent (as always) but that the lines were not as testing as they've been in the past, however it was still very much a four star track with big fences and distances that require forward positive riding – I bet it was great to ride around, gutting.
The girls who work with us have all gone up today to watch the cross country, I'm sure they'll have a great time. Jenny and I are busy at home sorting things with the kids, and getting on top of jobs alongside riding horses and taking Coco to the gallops ahead of Blenheim next week. We also took a family trip to Swaycliffe cross country to meet friends Pod and Joy who were cross country schooling – Jenny took Maggie along so they could see her and to cut a long story short we've come home with an empty lorry which is great as Pod and Joy will provide Maggie with a great home to enable her to have a second career post racing – a good outcome.
Tomorrow will be another 'normal' day for Team Levett, working horses at home and doing maintenance around the place, although I will take time out to watch the BBC Burghley coverage which I always enjoy – although Jenny describes me as a grumpy bystander! Thank goodness Blenheim is around the corner…
The other good news this week is that Tim and Hipp's leg injuries seem to be progressing, our vets are pleased with how their legs are handling and so we will continue to increase their controlled exercise programmes.
Cheers,
Bill
Posted 4th September