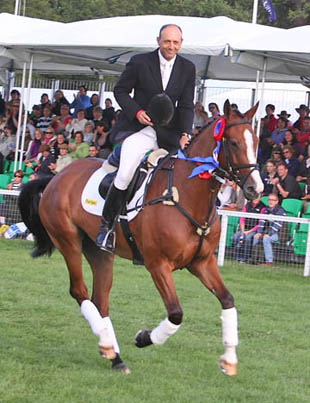 Today it was Coco's turn on the cross country. Some riders felt the cross country for the CIC*** class was not strong enough, especially those on the more experienced 9 year old horses. However for me on an 8 year old it was I felt just what you would have wanted for an 8 year old. The track was very fair and educational for a young horse in my opinion, with enough for them to do especially given the crowds and atmosphere.
I had a cracking round on Coco, the course rode very nicely and the ground was good. To win this kind of class you have to go flat out from the get go and this was never part of my game plan. I rode positively but in a rhythm with Coco very much within himself. He went a little green at the big ditch and brush hesitating momentarily in mid air – but he'd never have jumped anything as big as that in terms of a ditch and he quickly got back in to his stride.
The most difficult fence on the track was a tall flower box with a bit of air underneath it on two strides to another flower box in to the main 'Blenheim water' and then the same out as the CCI*** horses.  Coco took this on well.
There were some lovely horses in both classes, which is always good to see. I was particularly pleased to see Joy (Dawes) who finished 11th do so well, she's a great person and she really deserved this result – she's worked at it and has produced both her horses up through the grades – I'm really pleased for her. It was also nice to see Catherine Witt doing well, she has been a big supporter of eventing over many years and it's nice to see her get some great results with her horses.
The CCI show jumping time was really tight with not many places on the track where you could make up time in your turns. It made for good entertainment and those that jumped clear within the time in this final phase deserved to move up – experience from some of the riders  and the real jumping horses stood out given the pressure put on by the tight time. All in all it was a great event, I think the format works well for the organisers and the crowds with cross country action on both days.
I'm pleased that Coco went well, he delivered in each phase – and will now have a well earned break for a few weeks, being let down here before going home to his new owners for a complete break away from the yard for a month. He'll come back in to work in early December with the aim of getting him to a three star in the Spring.
There's no rest for the wicked and after a leisurely afternoon today, it's straight back in to riding and teaching tomorrow with a busy week ahead. Harry and Magnus, who are going to Weston, will go to the gallops tomorrow and then I've horses to ride and lessons to give. I'm taking the working pupils show jumping on Tuesday along with a couple of young ones, just locally which works well as it's a good facility and good to jump the horses 'off their home patch'. I'm then at Purston Manor on Thursday and Gatcombe over the weekend.
Cheers,
Bill
Posted 12th September