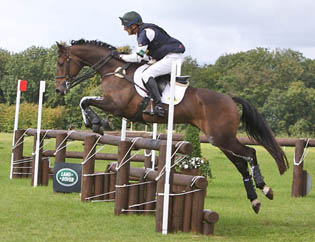 I'm just on my way home from a good day at Gatcombe. The objective for today was a qualifying mark for Figgy and a good last prep run for Harry pre Weston Park – I think we achieved both.
All the riders including myself are starting to feel the season is coming towards its conclusion with the evenings drawing in and not that many three day events left, for me just Weston Park and for a few riders WEG, Pau and Le Lion D'Angers. As I said about Purston, Gatcombe was the same with really good ground and so I'm glad I've got horses entered to run.
We entered Figgy in the 2* and although the dressage test is challenging and verging on a little too difficult for her vs where she's at in her training I was confident she would get a qualifying mark and wanted to do so so that we are not under pressure to chase qualifications in the spring. Luckily things worked out and despite getting a little tense she got a good enough mark and, all being well, she'll get a qualifying result on Sunday. If all goes to plan she will be basically qualified to do a CCI 2* next Spring.
The course is similar to previous years at Gatcombe and beautifully presented. It would be nice if they could do some different things every now and then as I feel the course doesn't change much which is a shame, although I recognise changes require investment so I understand that constraints are a reality of eventing.
Harry did another Intermediate, doing a middle of the road dressgae and a nice double clear. I think the time round the cross country is very hard to get (although not impossible) – I went handily with Harry given it is, in my mind, a fittening run for him ahead of Weston and the ground was good, but he still got 7 time faults.
It was great to see Trinny (a horse Jenny and I found and produced to 2 star) back in action with Liz after Liz's injury. They did a lovely double clear and Trinny has given Liz such great experience and mileage at Intermediate which is good to see.
I'm back tomorrow with Moose and Fin in the Novice so home now to ride horses and ensure were back bright eyed in the morning.
Cheers,
Bill
Posted 17th September