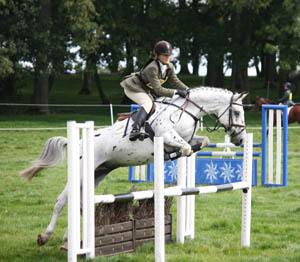 I got my competing done on Friday which has meant that I've had an unusual weekend in terms of my time during the eventing season as I've been at home. I didn't quite get away with not leaving the place as I drove the lorry to Moreton Morrell for Jenny and Eleanore on Saturday as they were both competing. I gave them a hand in the morning first thing and then came home to ride some of mine and do some fencing before heading back to drive the lorry home in the late afternoon.
Eleanore and Jenny both had a good day, on Bailey and Blue. They jumped good double clears but had dressage performances to forget – back to the drawing board there. Mac and Buzz reinstated Jenny as a dressage diva, both scoring 23 and Buzz winning the best dressage prize in his section. Jenny then had a rail on Mac and two on Buzz so assumed she was out of contention and cantered around the cross country for steady clears – the show jumping caused that much trouble that, coupled with a clear cross country and good dressage, she still got minor placings on both despite some cross country time – will teach her not to check the boards!
Moreton Morrell cross country courses always cause a fair amount of trouble I'm not quite sure why, whether it's the undulating ridge and furrow terrain in places that throws riders/ horses off, or the variety of fences – there are quite a range of slightly different questions e.g., an upright blue skinny on the BE100 before the water and a couple of combinations in a row in the middle of the course. The show jumping also always seems to cause trouble which is surprising given its on a surface and the courses are well presented – who knows, it is built fairly up to height and square but I'm still surprised at the small number of clear rounds you see on the score boards.
A few bits of news to update you on around the yard; Magnus has sadly been sold, he has been bought as a back up horse for 2012 by another professional rider, so it will be interesting to see how he progresses at 3 star next year – I'm only sorry I won't be riding him. Hipp has also had his surgery and appears to be recovering well so far –he's staying at the vet hospital for a while to keep a close eye on him in terms of infection for the first week and then he will come home to continue his rehabilitation. Tim has started trotting again, only for a few minutes each day coupled with his walking but it's progress and another milestone reached. I've also got a couple of young horses in to break and produce which will be nice projects over the next few months – so as ever lots going on to keep me interested and out of trouble.
I felt very sad for Megan Jones after hearing that she's had to withdraw from WEG after her horse had some complications travelling – devastating for her (and for the team), after all the effort she and her support team must have put in, I'm gutted for her.
Anyway off to take the kids for a hack on their ponies along with Jenny (both of us on foot) and the dogs around the local estate – one of the huge plusses of where we live that we can ride without venturing on to the roads and have lovely countryside to ride across. A rare treat to be able to do this as a family.
Cheers,
Bill
Posted 26th  September