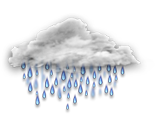 Well what a weekend it's been…… this morning I dutifully set off at 5.30am with the horses all ready to go and four nice novice rides ahead of me. I was skeptical the event would run as Jenny had said it was pretty muddy yesterday and I'd listened to the down pour most of the night; sadly as we pulled in at 7.00am we heard the decision had been made to call it off. Despite their valiant efforts over the course of the previous couple of days the torrential down pour on Saturday night had made the course impassable for emergency vehicles.
Such a shame for the owners and for the girls who'd worked so hard to get everything ready. However my view on these things is you have to make the effort as you'd kick yourself if you were on the back foot and they decided to run as many of these down pours can be isolated – so it's never worth the risk of not making the effort.
I was sad to miss the run at Dauntsey as Jenny had been there on Saturday and she said the track was great. The event is in a completely new location and the cross country courses were educational with a nice bit of variety, and the ground had held up well. So all in all a shame – Jenny had a nice run around on Mac who jumped a good double clear and seemed to take the cross country on a little more by all accounts, and Blue was better in the dressage and tried hard in the jumping despite pilot error (direct quote from the wife), but didn't run cross country as he's only just moving up from intro and with the ground Jenny felt best to leave him for another day – wimp I say!
Anyway as we all know its been WEG this weekend and my dear friends kindly organized a day at the football yesterday to distract me from the eventing and stop me feeling sorry for myself, so I had a nice day out and was kept in touch by several of my Aussie mates – I've not yet seen the coverage but by all accounts the Aussies had a day to forget. In fact they've had a Championships to forget – 2010 is definitely a year to draw a line under and roll on 2011. The Brits on the other hand rode a blinder by all  accounts which is great to hear.
I'm looking forward to catching up with it all – it's easy to be an expert watching from the comfort of the sofa.
This coming week is a pretty normal one at home, although I'm off to Weston at the back end of the week – I'm hoping for the rain to stop as I'm keen to get Harry's two star qualification under his belt as next year he'll be ready to step up to Advanced which will be great and I'm looking forward to that.
I'll report back as the week unfolds,
Cheers,
Bill
Posted 3rd October