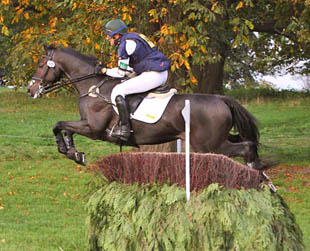 Weston has felt a little odd as I've been commuting backwards and forwards for the last couple of days. Given it's only 90 minutes or so from us with good traffic, and that my dressage was first thing Thursday, I came home on Thursday after walking the course to work some horses at home and see the kids.
I worked horses on Friday morning and went back to Weston in the afternoon to jump Harry and walk the course again. I then came home again Friday night as I wasn't on until nearly 4.00pm today and this enabled me to get some jobs done at home, ride a bit and spend some time with Jenny and the kids. In between times Eleanore has been doing a great job at Weston ensuring Harry is kept in a routine and on track with his work and relaxation schedule!
Harry had a trot first thing this morning and then I warmed him up about an hour before he ran cross country and put him away for a break and give him a chance to have a pee etc before getting  on him for his round about 20/30minutes before we were due off to give him a final warm up and jump a few fences. We were late setting off as there were a few holds on the course – sadly one of the young riders in the 2 star was air lifted out, just as a precaution but still no fun for any connections. Two horses later another rider fell at the same fence – the coffin fence I highlighted yesterday, and the organisers then removed the rails in and out from the course so the fence became something where you just canter through and jump the ditch. This was still quite spooky and caused a few problems.
Harry went very well, going clear in the time. He was mentally up for it and jumped really well – straight as anything on his lines and really getting his knees up in front and galloping on strongly. We were held for 15 minutes on course which he coped with well mentally. The ground was good and the time was very achievable if you picked up a good rhythm to the fences and kicked away from them. Harry had been in 12th after the dressage and I think may have pulled up a few places after the cross country but the final results are yet to be printed.
He seems to have pulled up well and so we'll ice and give him some game ready treatment now and then give him a break and trot him up later this evening to make sure all is in order before the trot up tomorrow morning. The show jumping, all being well, is later tomorrow afternoon as we are the last section to jump.
Given the holds they'd had on the course they were running short of light towards the back end of the day but thankfully the last few horses ran without incident and the team at Weston did a great job of getting us all finished before the unseasonal gloom came in.
Cheers,

Bill
Posted 9th October