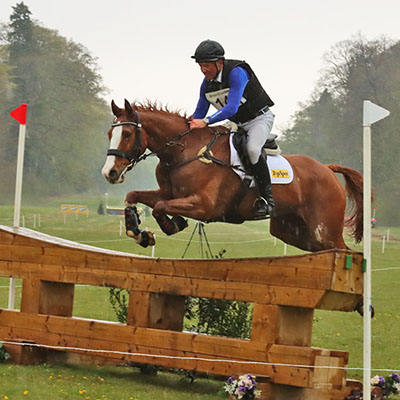 Here we are at Cirencester Park – such a beautiful place to hold an event. The day started with some sun but deteriorated into a hailstone downpour and mega cold temperatures. Since this wasn't forecast, we were all caught out somewhat!
The recent rain this week brought an unexpected run today on good ground, after the recent dusty and dry going of the last few weeks. I had three Intermediates out, Floss and Bambi on their second Intermediate run and Bart in the OI.
Floss (pictured) was the star of the day with a clear SJ and XC plus a slowly improving dressage in only his second Intermediate.
Both Bambi and Bart had more settled dressage tests. Bart was unlucky to have a rail down on a big SJ course. It is frustrating that Bambi had three rails down as he feels he will eventually jump clear rounds.
Bambi's 20 XC was in fact a trip up the step and he was therefore not on line to jump the fence. He otherwise felt good, galloping round.
Bart had a naughty run out – turning left handed after a coloured table, over a right handed corner – he also had a good look at the water but was persuaded to keep going!
Dottie came along for the ride and had a lovely social time – especially mega cuddles from Ros!