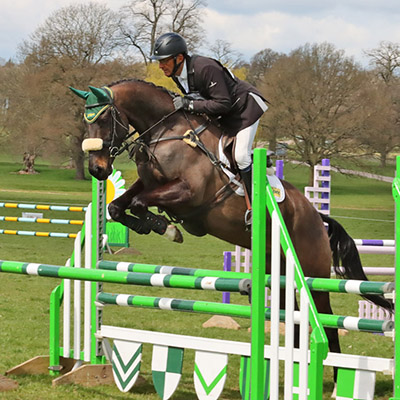 Flash, Archie, Tiger and Stan all had a Novice outing at Moreton Morrell this week. I was surprised to find the ground wasn't as muddy as I thought it might have been, after the rain and hailstorms we've had. The going was good, slightly on the firm side which was fine.
All the horses had clears on the XC with a handful of time faults. Flash (pictured) had his first Novice SJ clear, travelled well in the XC and posted a 34.5 dressage. Archie jumped a double clear. He is taking me more across the fences in the XC and not jumping so high which is good. He was lazy in the dressage for a 29.5.
Tiger is now generally more settled all round but lost concentration in the SJ to have three down, but jumped a good clear XC after a 31.8 dressage. Stan was running in the ON for his first outing this season. He was more settled than I thought he would be, with a double clear and a dressage of 27. He will run Intermediate next time.
Aston next week with Quin and Bart in the 4* and Mario, Floss and Bambi at Intermediate level.
Cheers,
Bill
Posted 8th May