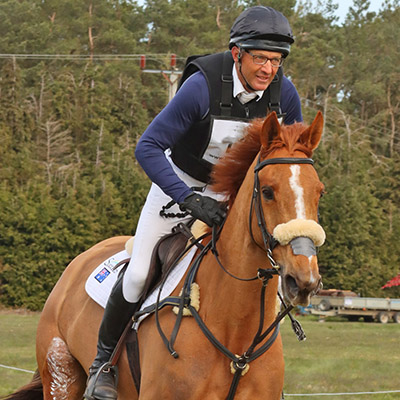 Quin and Bart were at Bicton International this weekend for their first 4*L, where Helen West and her Team had stepped in to run this 4* after the cancellation of Bramham earlier in the season. They hadn't too much time to set it all up and they did a marvellous job.
I felt the 4*L course was a bit strong for a 4* – slightly 'overcooked', taking in several really steep and long hills with some very testing questions and tight lines.
Neither Quin nor Bart are super movers in the Dressage and my aim over the next few months is to get them at least more competitive. Quin, who loves the XC, unfortunately had an unusual run out at the infamous couple of narrow cornered brush fences, after the first water. The line of the second one was very tricky and Quin just didn't see what he had to do in time. However, this fence caused massive problems throughout both the 4*L and the 4*S. Otherwise Quin was amazing across the rest of the course.
I took the long route at this fence with Bart who went clear with 20.8 time. He kept galloping and taking on the fences. I was very pleased with both horses completing a very challenging course – the likes of which they had never seen before and a course that caused 20 retirements, 12 eliminations with 9 withdrawals.
Quin jumped clear in the SJ with Bart having one rolled pole. All in all, they both gained more experience which was very satisfactory.
I shall next be at Nunney with the Intermediates and the Novice trio.
Cheers,
Bill
Posted 14th June