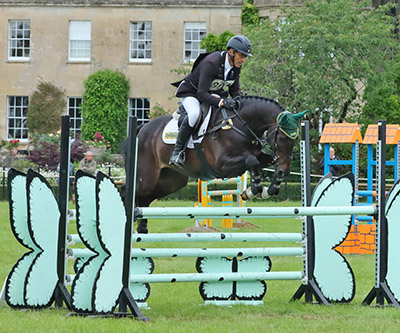 It was a successful two days at Nunney, although the first was a bit damp and the second very overcast but dry. The courses all ran well with good ground.
Friday was Intermediate day with Stan, Mario and Floss. Darian had a run round the Novice on one of our client's horses, Walter, which was good.
Stan is going to Hartpury so it was great to have a good clear SJ and then the rain came which softened up the ground a bit – I was therefore able to put my foot down a little with him. I had changed his bit and did wonder if I would have enough control and be able to bring him back when I wanted to – in the past, this had been a problem but not today. It was a marvellous run for him to finish 2nd.
Floss impressed me as he continues to improve and felt like a horse that could go on to jump bigger fences. He is so careful, but brave with it. The water complex for the Intermediates was very difficult and I didn't have to push him through it at all. He took me all the way – big jump into the water and a skinny coming out, at which he pricked his ears and kept going.
I feel sorry for Mario as he keeps on having issues, some of which are my fault. For example, I rode him first on the cross country. At a tricky combination, he just didn't see the last element and therefore not a true run out in the sense of the word. I was then able to ride a different line and pace with the other two.
He is a very good XC horse, genuine and wants to try. He fights me a bit in the hand and then doesn't have his focus where it should be. He did a good dressage, leading after this phase, and his SJ is improving where he is now allowing me to place him rather than running against me and then running too deep at the fence. His day will come when it all comes together! He does a lovely test and has a good jump and stamina.
The next day was the Novices, plus Josh came with Hobby and jumped a lovely double clear. That partnership is growing, well with Hobby more confident and the owners were thrilled with how he went – so that was all good.
Flash (pictured), Archie and Tiger ran in the Novice. Tiger again ran consistently round the XC and is improving slowly in the dressage. The SJ is something he struggles with having previously raced, but his round was as good as I have ever had with him running between the fences. Archie is still green and young. Despite being one of the best jumpers on the yard, he had a rail down in the SJ which is frustrating and my fault today.
I didn't push Archie in the XC but we had a good gallop and he improves all the time, gaining experience. It was lovely to have my longest standing owners there, Veronica and Carol, to watch their young horse, Flash, which they own in a syndicate. I have taken him very carefully up to now but this was the day that I let him go to see how he could gallop. I wanted to see what sort of a galloping stride he has and he felt like a horse that would gallop into the upper levels.
I asked some questions of him today which he answered admirably. He has a beautiful test in him. With a couple of mistakes, he still did a competitive test for a 30.8. In the SJ he jumped a lovely clear. He finished 2nd which was exciting. It was wonderful for his owners to be there to enjoy watching their horse develop.
Cheers,
Bill
Posted 20th June