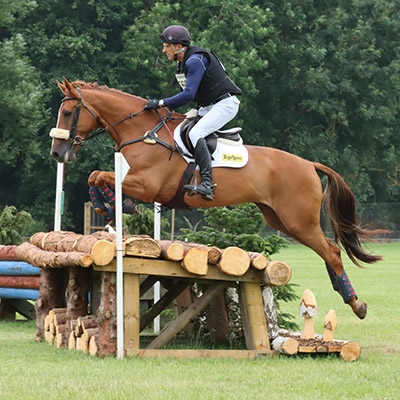 We were back at Aston last weekend where we seem to be quite a bit in this time of CV19. It gives us a great opportunity to get the horses out and give them a good experience.
The first day was the Novices. With no rain at all for some time and such a hot spell, Nigel and his team had done a huge amount to the course – using an aerator and an agrivator plus watering the ground along the course. They had done a great job. When I went out on my first horse, I was pleasantly surprised how different it was from the lorry park. The Novice course was as you'd expect at Aston and was challenging enough.
I wasn't sure about the thinking behind not having the SJ on a surface because the going was harder in the SJ than the XC.
It was a good day and the horses all went well. Mario ran in the Novice this time and went really well. He gave me the best ride ever on the XC – he'd be competitive at the 2* level. Flash did a lovely test but didn't get a great mark which was disappointing for both me and the owners.
We then had a break on the Saturday and came back on the Sunday for the Intermediates. This was more about giving Quin (pictured) and Bart a school before Burgham, as they hadn't been out since Bicton 4*L and they needed a canter around. They both felt good but fresh and a bit over the top in the dressage. Their schooling is coming through and they are getting better and better.
Bart's SJ was a bit of a mystery because he is normally a solid jumper. I am not too worried as think this is a one off and we will see how he goes at Burgham. They both felt really good XC, cruising round with confidence and feeling mentally very strong. For me, the Intermediate course was just about right, with enough going on to give them some challenges – a few corners and big ditches, and a fence just before a water which you could see underneath, therefore making it a bit tricky. Both Quin and Bart took it all in their stride and I feel that they know their job a bit more now and are more mature. In the next few weeks, Bart will be heading to Hartpury for the 4*S and Quin is heading to Blair for the 4*L.
It was a very enjoyable couple of days. Next stop Burgham for Bart and Quin and Homme House for the Novices.
With thanks to Nigel and his team,
Cheers,
Bill
Posted 26th July