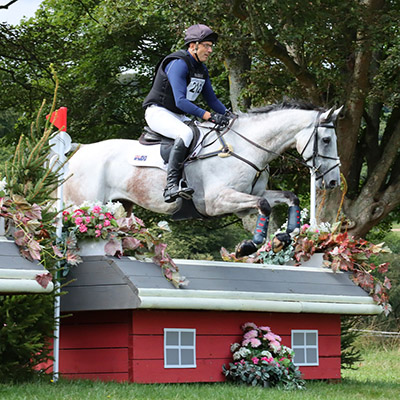 Great to be back at Cornbury – seems another year has gone by very fast!
It was a mixed Event for me. I was very surprised with Flash who did a nice test on the Friday but then spooked at a water tray in the SJ – twice – which he's never done before. I'm not too worried as he's a young horse but it did take me completely by surprise. So, no XC for Flash.
Tiger had a super XC and had real fun galloping round the course, showing himself up well which was great.
I had another excellent gallop round the XC on Bambi who has really matured this season. He did a good dressage and rolled just one pole, to finish 7th in an Intermediate class, which is very pleasing.
Archie (pictured) was the star of the weekend, being the best he's ever been I felt. Though he went brilliantly at Somerford, he stepped up another level at Cornbury, giving me a lovely feel in the big 2* class which had 100+ in it and he came 4th. The exciting thing is, there's still room for lots of improvement which is a real positive.
Josh had a good weekend with four horses – Jedi, Tommy, Didi and Bert – continuing to learn his trade and gaining valuable experience for the future.
The courses were good and pretty similar to last year, identical really and about right for each class. The going could have been a little firm but the courses had been worked on and we had a decent drop of welcome rain. All in all, a good couple of days. It is great to have another venue with International classes and, for Team Levett, not far from home which is a real treat. Long may the event continue.
Huge thanks to David Howden and his team for a wonderful event in such glorious countryside that is Cornbury Estate.
Next stop for me is Blenheim with Bart.
Cheers,
Bill
Posted 13th August