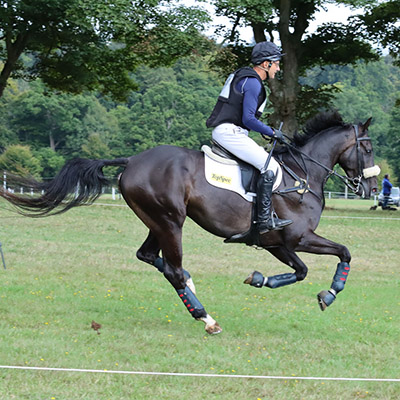 Team Levett has been at Osberton International Horse Trials for the YH 3*7YO with Flash and Archie.
Flash was up first with dressage on the Wednesday. He did a good solid test for a 32.2. The XC was on the Friday when it rained. Flash started as light rain began to come down. We had a good round and as we went early, had to jump the two elements – one in the water – of the first water.
Shortly after we had finished, they took out the second element after about six horses.
The SJ was on the Saturday which was a fine day with a breeze drying out the ground. There was plenty to look at around the arena but Flash had a good consistent round with just one rolled pole. He was looking happy and it was wonderful to finish on a good note, with two of his syndicate, Veronica and Amanda, there to watch – stoically standing out in the heavy rain on Friday! He has made a huge improvement this season and we are all looking forward to Flash's next season.
Flash had been at South of England the previous week. He gained some good experience there. There were lots of activities happening around the showground, making it all very busy. The XC was a strong track but in a good way which was great for Flash who learnt from it.
Archie did his test on the Thursday at Osberton with a score of 27.3. As we were in the XC warm up, the heavens opened with torrential rain. He only had one element to jump at the first water and did a good solid round with a handful of time faults. He jumped an exuberant clear SJ on Saturday to finish a pleasing 6th. Interestingly, 4th to 15th placings received £29.16 prize money!
There are a great many classes at Osberton resulting in a huge amount going on with lots of lovely horses. The weather mostly stayed fine with the exception of Friday afternoon when it literally tipped it down. However, the ground held up well.
Boss has been to South of England where he went well in all three phases. We are building a good partnership. He will go to Oasby next and then finish for the season.
Archie goes to Oasby too for an additional prep run before Lion d'Angers.
I am next at Swalcliffe with Mac and Spot in the 100.
Till next time,
Cheers,
Bill
Posted 3rd October