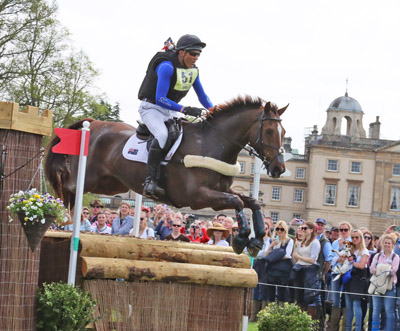 Great to be at Badminton with Bart. Always a good feeling to be at a 5* Event.
Overall I was happy with Bart's dressage despite the missed flying change which dropped us out of a late 20's mark. It all went to plan otherwise for a very satisfactory 32.5.
The XC was always going to be a challenge with the dire weather we've had for weeks and weeks – so much rain – but I liked the course. Such bad luck this endless rain continues. Bart coped very well and although we didn't complete, which was disappointing, I was pleased with him. He jumped all the tricky combinations and wasn't backing up. He took me to the fences. He found the going difficult and by Huntsman Close, he wasn't with me. He was very tired and couldn't jump anymore fences.
All in all, he did good. He had not done a 5* before and therefore had never seen fences like this before, plus the length was longer than he'd ever done before. If the weather hadn't been so unkind, he would have made it to the finish.
Bart coped with the buzz of Badminton brilliantly. He's never been to an event on his own before, and was a little surprised to be the only one loaded on the lorry! But he took it all in his stride.
Huge congratulations to the Organisers and Volunteers to keep the show on the road. Tickets were sold out for the XC day. Many happy people were pleased to be at Badminton again.
My thanks as always to Lucy Whitehead and Debbie Carpenter for looking after Bart so well, and indeed me! Thank you to the Team at home, keeping the other horses going and the yard up to the mark to enable me and Lucy to be away for 6 days.
Cheers,
Bill
Posted 9th May