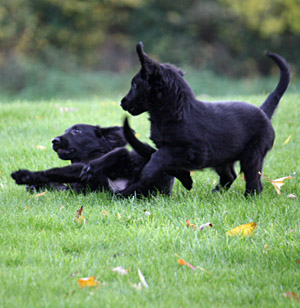 I've been rather slow with the blog this week and there's no real excuse; I've not been travelling excessively but I have been kept on my toes by our new puppies – they are pretty full on and constant (not unlike small children). Byron and Bay arrived exactly a week ago and have settled in well at Little Charingworth. They are already growing in confidence and their personalities are emerging – Byron is quite a cheeky, independent chap while Bay is boisterous but at the same time a real people lover. He's also the spitting image (apart from his gender) of Mally and has many of her mannerisms as both a pup and later in her adult life which is nice for us. Anyway they've been full on as we've attempted to get them house trained (a work in progress!). Dangar is slowly growing more accepting of the two bundles of black which want to constantly swing from his ears and lick him to death – for the first time yesterday he played with them when he thought we weren't looking.
In addition to the pups, I've taken the opportunity this week to look at some horses, firstly a collection of 3 and 4 year olds and then an older horse than has spent a few days with me. I always like looking at young horses; it takes me back to my time years ago working on the studs and with youngstock in Australia. To cut a long story short the one I wanted to take home was sadly the one the people didn't want to part with – it's often the way but if you don't go and look you don't know what's out there and you're never going to turn up your next Badminton ride sat at home!
I've also been doing more teaching, something I enjoy and which I get to do more of in the 'off season'. I did some cross country training in the school with one of our local pony clubs last weekend, working on accuracy, control and the right speed and balance using lots of different exercises, and on Monday I'm off to teach a variety of different people of all abilities and ages at an equestrian centre. The girls have also been coming on at home with their riding and, as I've said before, I do enjoy helping them.
This weekend sees the last event of the season at Pau and my money is on William and Navigator, not only because William is a world class jockey but because Navigator is a world class horse. Despite having done very little this season William will have got him primed for the run. I've always liked Navigator – he's got a great gallop stride on him from what I can observe from the ground and hence is a very fast horse given he also looks like he never really gets too on the bridle. I'd also like to see Lucy go well and it will be interesting if Ruth can keep Two Thyme up to the job on the cross country, I guess we'll know soon enough.
The next week or so will see Jenny and me begin to plan the programmes for the horses for 2011 ready for discussion with their owners – my mind is already whirring with ideas for which events I'd like to aim which horses for and what I'd like my and the individual horses goals to be. Watch this space and I will share all in time.
Cheers,
Bill
Posted 6th November