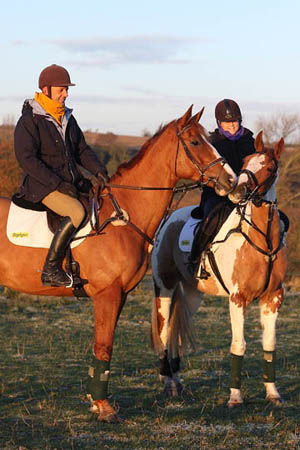 It's been a fun couple of days. In the off season I try to do a few things with the guys who work with me in the yard. This week we've been bowling and we all had a good time. Much banter was had by all, and I enjoyed it despite being out with five girls half my age! Of course I won, despite strict instructions from Jenny that I mustn't!!
Jenny and I also did some fun photos with Fiona in the chill of the morning. I think we drove Fiona mad and Mac and Figgy, who we were riding, went from arch enemies to firmest friends within the space of 30minutes of photos!
Back on the work front I've been busy breaking in a couple of young horses which I enjoy. All of them have such interesting and different personalities. The lunge pen has been a great addition and is making breaking the horses so much easier.
The yard is starting to fill up again with the horses returning from their holidays. Harry is back and Alex and Fin are both in from the field. So it's time to crack on, and before long we will be planning the campaigns of each horse for 2011. I can't believe how fast the weeks roll by, but I'm already really looking forward to next season.
Cheers,
Bill
Posted 26th November