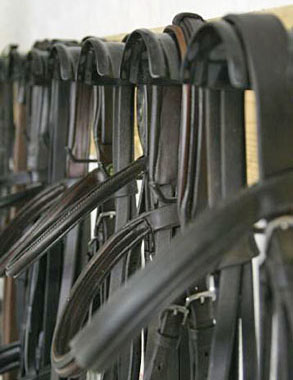 Every rider I know has bits of tack that they favour. I know I do, and if I'm honest these then tend to change over time as I try new things as tack evolves, but also based on the expansion of my personal knowledge. So I thought it would be helpful for me to share with you a few of the bits of tack I favour at the moment and just as importantly, why!
My overiding top tips are firstly, to keep it as simple as possible in terms of tack – the less gadgets or bits of kit on a horse the better.
Secondly, every horse is a different shape and size, and particularly when it comes to their mouths, we can forget this. We spend a lot of time and effort ensuring a horse's saddle fits it but far less time, in my view, ensuring that the horse is comfortable with the shape of the bit we may put in its mouth – horses have very different sized mouths and tongues!
In terms of pieces of tack I'm a big fan of I would list the following as being current favourites – I'm honest enough to admit what I like does change over time!
·         Hannovarian Pelham
Vere Philips first put me on to this bit about five years ago. I've found it fantastic for any horse that tends to get on the bridle, or if it is a horse that likes to grab the bit and bore down, or if a horse is prone to splitting its mouth. It has a large port in the middle of it and I've found it a massive help with several stronger horses. Be warned, I would encourage loaning one before purchase as (a) they are not cheap and (b) its definitely a 'marmite' bit – in my experience horses either love it or hate it
·         Goggles – for me not the horse!
This may be something that is particularly helpful to me given my age – and to be clear they are definitely not a fashion accessory! For the last two seasons I've worn racing goggles when I ride cross country as my eyes water while I'm galloping along, particularly if it's cold and windy. So on a practical note the goggles help me to see the fences! I don't really understand why more riders don't use them. I know they are not stylish but they are really practical.
·         Two sets of overreach boots
I use over reach boots very selectively. I don't like to use them at all show jumping a horse, and I don't use them for  fitness work with my horses unless they are very, very prone to pulling shoes. However I do use them when I run cross country, and at a three day event or big CIC competition I will put two pairs on just to make sure they do the job
·         Open fronted prolite cross country boots
Again I've used these for a number of years and I really like them. They provide the horse with plenty of protection but if a horse does rub a fence it makes them more conscious to pick their feet up next time.
·         Australian stock saddle with a monkey grip on the front
This is a great tool to have for breaking a horse in as it keeps me safe if they jump around. I can get my legs and body in a great position to be able to go with the horse and not get out of balance which is what can often scare them.
·         Pessoa
I believe in lunging all of our horses in a pessoa – if used properly its a great bit of kit to enable you to work a horse effectively on the lunge, making it work through from the hind leg rather than just pulling itself along on its fore hand with its head tucked in.
·         Albion dressage saddle
I've been lucky enough to ride in a large range of different saddles over the years, but my favourite shape of dressage saddle for me is an Albion. I find it keeps me in a great position and I feel close enough to the horse, connected to it.
·         Butet jumping saddle
Another marmite item. I don't love the price tag and it's not about the 'name' but I have to say I love this make of saddle as it has a very open seat and I feel I can get myself in to any necessary position cross country and yet feel comfortable and secure in the saddle. That said I'm an old fashioned guy and I like the double flap (not fashionable I know!)
·         Snaffles
Unless there's a very good reason not to I always ride a horse in a snaffle – often a fulmer as I like a cheek piece especially on a young horse, as I feel I can channel them more effectively. However within the snaffle range I will flex the mouth piece – e.g., joint, lozenge, depending on the horse's mouth shape and what it feels comfortable in. The secret is to take your time and play around with a few different types, and don't make your mind up on first use, try it a couple of times. Most tack shops have a good bit loaning service.
·         Sheepskin fluffy
I use these on most of my horses, not because their saddles don't fit and I would never recommend using them to compensate for an ill fitting saddle BUT instead I tend to use them as I feel they give the horse a little more comfort – when I'm bouncing around on their back.
·         Two reins
On some horses I like to ride with two reins. This won't be for everyone, particularly if you are less experienced as you need to be confident in riding with two reins, BUT for me it is something that I find helpful as if a horse tends to be prone to 'getting on its head' or needs a little more help to sit in the canter then having two reins can just give you a little more adjustability at times.