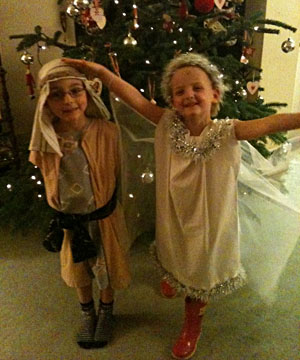 We are just back from the funniest play I've seen in years – yes, you've guessed it, the kids first Christmas play. I was lucky enough to go to Oliver on Saturday night (thank you mum and dad for the Christmas present) and that was spectacular, with great staging and great character performances from key roles such as Mr Bumble and Fagan – however it wasn't as funny as the Ebrington School Christmas show!
Ursula (angel) spent her whole time stroking the donkey's ears and 'doing its forlock and mane' and not concentrating – off in her own little world. Honestly, I was crying with laughter – Josh (shepherd), the little trooper, was singing heart out and concentrating extremely hard on the task in hand when he wasn't distracted or yawning! They take it all very seriously with four performances; matinee and evening over two days – and tickets are like gold dust, four per family maximum – a whole other world.  A lot of fun was had by all.
On the horse front the milder weather has been a big help, and makes doing the yard a lot easier for the girls, working the horses is easier and I'm sure they prefer it.
I'm excited to have a horse I rode on and off last year, Dan, back. He is back to get ready for next season and to crack on with some schooling on the flat over the winter. He's a lovely 8 year old Irish looking type with a good engine and a cracking jump. He will, I think, be a proper horse, sensitive but hopefully with plenty of ability. He's currently at novice level, so the plan is to build a partnership with him and see where it takes us.
So some good news after such a grim weekend with what happened to Madge.
On a brighter note it's the staff Christmas party this weekend which is always a bit of fun. We take the girls out and have a quiz which we make up (everyone provides 5 questions each). It gets quite competitive – can you believe it?! Anyway it's a bit of fun for everyone,  and it must look very odd to anyone looking at the table – one old bloke with at least half a dozen young ladies in tow!
Cheers,
Bill
Posted 13th December