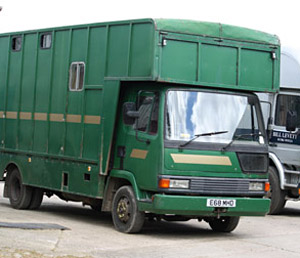 It's been a busy week on the yard at Little Charingworth. We now have the full team back to work after the winter holiday season and all of the horses are also well back into their work programmes. I've enjoyed riding and getting back in the groove this week and I'm pleased with where the horses are at for this time of the season.
The key 'event' this week, besides the horses, has been orchestrating and having the kids sixth birthday parties – let me tell you, work is easy by comparison, and that's with the wonderful Gracey helping with all of the preparations and acting as a pillar of calm amongst the chaos!
Josh had a 'construction party' with eight friends: it at times bore close resemblance to a rugby match in the house with eight over excited six year old boys – but I managed to survive my stint of refereeing, although I felt fairly frazzled by 6.00pm!
Ursula had a 'make over' party for half a dozen of her girl friends: Josh and I were banished from the house and went to do 'boy things' while the girls all turned their hand to a spot of pampering – much fun was had by all by all accounts.
On a sad note our green lorry is headed for 'lorry heaven' as after twenty good years of service to Jenny pre me, and then to us jointly over the last ten years it has finally reached the end of the road. The engine is still tip top but its body is giving up on it – I know how it feels sometimes, especially early on these cold winter mornings! Rather a blow as we hadn't bargained on having to replace it at the moment but such is life and these things have a habit of happening at the wrong time –anyway Josh and I went looking at lorries as part of our 'boy outing'… it's still a work in progress but we are hoping to sort a replacement soon.
The coming week sees many of the horses starting to jump again as many of them are already 'legged up' and well on with their flatwork – I'm also busily working out with Jenny the canter programmes for the next few months for the horses working backwards from the event dates/targets for each horse so as to ensure each horse has the appropriate schooling and fittening programme.
Cheers,
Bill
Posted 10th January