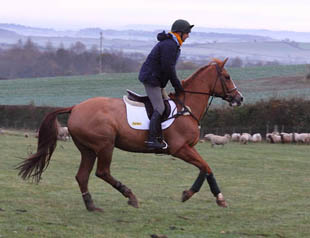 I've been rather remiss with the blog – last week went past in the blink of an eye. It was a crazy week, with all of the horses now back in full work and much to be done to prepare for the beginning of the season.
I'm really enjoying working with all of the horses again and already looking forward to the season which is not far away now. It's interesting how nearly all of the horses seem to come back better and stronger from a mental break – they don't need many weeks (3 or 4 seems to suit most horses), it just seems to help – almost as if they've had time to reflect and come back further along with a little time out.
Another reason for the manic week was that we had a rare weekend off as a family. I treasure these times as once the season starts they just don't happen – we squeeze in odd days and evenings, but being able to completely switch off for a weekend and do normal family stuff is a rare treat. We had friends to stay on Friday night and I got to cook, something I'm not good at but which I really enjoy doing. I didn't poison them and they seemed to enjoy the meal – so all good.
We then went to stay with good friends on Saturday night who also have children of a similar age – so all had a good time. For us it was a real treat not to have to drive and to be able to 'flop' and for the kids they had their first midnight feast. So everyone was happy. Then to top it all off we had lunch today with a group of friends, 17 in total – 10 children and 7 adults – how times have changed! A good time was had by all, but the friends who hosted need a medal for (a) feeding us all so well and (b) staying calm among a sea of toys scattered everywhere with 10 children under 10 bouncing off the walls!
The week ahead will again be manic but in a good way, with horses to school, and I'm starting back with the show jumping at a local venue, Allenshill, and cross country schooling, again local at Swaycliffe. I'm also trying to increase my own personal fitness from this coming week onwards – so it's all go and focus is key to the remaining couple of months of preparation before the season kicks off in earnest.
Cheers,
Bill
Posted 17th January