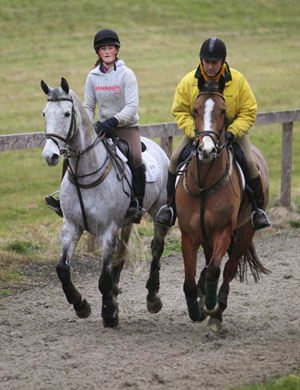 Tim and Figgy are upping their fitness work for their three day event goals, Badminton and Compiegne respectively. They are both now beginning to go to the gallops every fourth day from the end of this week and Tim will also do some additional hill trotting, increasing both the frequency and duration of his hill work to improve his core/endurance strength in addition to his cardio (gallop) work.
It's important not to 'over train' the horses, so the fitness work is something I plan in such a way to give them a mental break during the week from the intensity of schooling. It also is an important component of their preparation for their eventing goals. We carefully plan the schedule so that we don't suddenly up their workload – it's gradually increased and we're careful not to put back to back jumping and gallop sessions in the programme unless absolutely necessary as we are trying to ensure the intensity/impact work is distributed over the weekly schedule.
As you can imagine it takes some planning but each week Jenny and I sit down and map out what needs to be achieved within the context of an overall (several month) plan for each horse. Jenny tracks much of it on a spreadsheet and we also have a daily diary which we write up weekly and in which everything that has happened work/injury/treatment wise is recorded, and we keep these and so can always look back over what we've done before.
In addition we trot the horses up once a week without fail to ensure they are all sound (every horse on the yard) and review their weight/how they are looking – this is something Jenny is involved in as she doesn't see the horses every day, unlike Eleanore and I, so the three of us work through it all together.
Note the horses also trot up each time (the next day) after a gallop, cross country school, or particularly strenuous jumping session. Also Eleanore and I check the horses legs daily (am and pm). It may sound a bit over the top but I think attention to detail is critical.
Cheers,
Bill
Posted 16th February