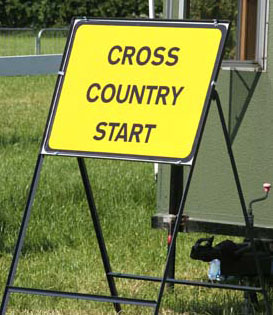 This week has been busy, getting many of the horses out for a little practice be it show jumping or cross country schooling. We have a great local venue, Allenshill, where I take the horses show jumping. They have a format where they have a course up and the height goes up as the day progresses – it is an enormous school with a good surface which is well maintained and you can for £10 go in as many times as you like. So it's a great way to bring horses on and get their and my eye in without having to break the bank – and importantly not having to wait around for hours and hours on end, my pet hate about going show jumping!
I took Minty, Womble, Alex and Fin this week, along with Eleanore and Clover and Izzy and Bailey. All the horses went well; Minty is growing in confidence and beginning to 'learn her job', Alex and Fin improve each time out and Womble jumped like a top. The girls went well on their hores and I was really pleased with Izzy who's settling in well. This was her first time out at an event jumping around a course and she did really well – remembering the way and riding well – so all good.
We've also been cross country schooling at Swalcliffe, which is local to us and has been able to remain open despite the recent heavy rain. It's a great venue with lots of variety and particularly good for getting young horses going. I took Fin, Alex, Womble, Minty and Dotty. Alex and Minty have come along a lot as they've been a couple of times. Minty continues to take it all in but she's not frightened, just a little sharp at times! Fin and Womble went well although they were a little green, but that's to be expected as they've not seen solid fences since last autumn so I will make sure they both go again and do some 'skinny practice' in the school.
Dotty was the star of the day. It was her first cross country school and she was very happy to walk and trot in to water, pop off a little step and over a little ditch. I couldn't have been more pleased with her.
The older horses continue to go well at the gallops and Tim and Figgy will increase their gallop work next week, going more frequently given they have Badminton and Compiegne fast approaching. Silks, Harry and Coco will continue to go once a week to establish their base fitness for their upcoming one day events – their three day targets are a little later in the season.
So although its busy it's been a great week – let's hope the winds stay away and the heavy rain that's predicted doesn't arrive. I'm teaching a fair amount over the next week or so with half term and a few clinics – so that will be good, as its something I enjoy and there is definitely plenty of variety in my life which is also something I appreciate.
Until next time.
Cheers,
Bill
Posted 19th February