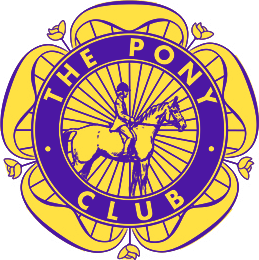 I had my first full Pony Club experience as I took the kids ponies up the road for them yesterday. I arrived just as stable management was finishing up and I'm glad about that – as from what I could see the questions and knowledge of the children were far better than mine in terms of what all the different brushes are called! My favourite moment was Ursula putting up her hand with vigour to answer what a particular brush was and, when asked, shouting out 'it's a dandelion brush' – much laughter followed.
The stable management was followed by a full-on session of riding in which they did some fun and games, and worked on control and jumping – Basil and Slipper were both pleased to be out at a party, particularly Slipper and just before finishing it all got too much for her and she had a little bunny hop around the place with the excitement of it all. There was no harm done and Josh, although not best pleased at the time, soon saw the funny side of it all.
I'm amazed at how capable all of the kids are at ages 5 and 6 – if I'd had half of their skill by double their age I'd have been off to a good start. As it was for me, I didn't really apply myself to riding until I was double their age! On a personal note I was also amazed at how much Josh and Ursula's riding has improved over the winter.
It was fun to have a few hours away from the hussle and bussle of the yard and riding myself – as at this time of year the training gets pretty intense as I try to physically and mentally crank up my own focus and preparation for the season.
Today I gave a friend's daughter and a few other people she knows riding lessons. It was cold but the girls who took part were very positive and tried everything I asked of them. Afterwards we stayed on for a meal which was nice. It is always nice to teach enthusiastic people.
Cheers,
Bill
Posted 26th February