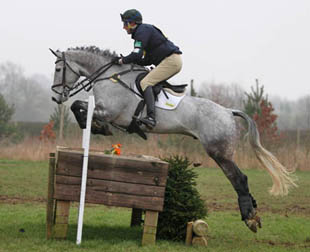 I'm just home from a busy day at Aston. The ground held up remarkably well all day and Nigel has done a good job to put on the event given all the recent rain we've had.
It has been a good first outing for the horses and me, a chance to blow the cobwebs out! I had Dan, Womble, Moose and Silks today all having a run around the Novice and Jenny had Mac and Bluey in the Pre Novice.
It was not our day dressage wise, no dressage diva awards today! I thought Jenny did a lovely test with Mac and that Silks and Womble did nice tests and that all would be in the 20s but the judges had other opinions – never mind, that's how it goes sometimes. Moose and Dan were excited to be at a party and so found it difficult to relax in the dressage and were off the pace – but they will settle in time. The dressage was away from the action but you could still hear horses galloping past on the final run to the last few fences on the cross country and that was enough to set many off – there was a lot of superglue required by many people in the warm up!
None of the show jumping courses were overly big or technical but it was good to get them all out and jumping as part of an 'eventing day'. Mac, Dan, Womble and Silks all jumped nice clear rounds. Moose got a little tense and had one down and Bluey was not himself and was flat and had a stop and then Jenny withdrew him as he wasn't right.
The cross country was an educational track to ease all the horses back in. All went well and we had no mishaps. So all in all a good day. I'm back tomorrow for Minty's first ever event and my main aim is to not get bucked off! We shall see how it goes.
Cheers
Bill
Posted 5th March