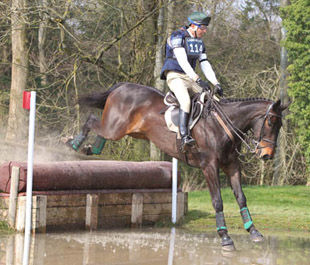 I was worried that the ground at Gatcombe today might have been a little firm but it rode very well. I had some Novices along with Intermediate and Advanced day before dressage.
Dan was out again and jumped a nice double clear. He is still tense in the dressage, but that will hopefully sort itself out over the course of the season. For the first time today he really started to relax cross country. Moose was also on the improve having just the last fence down in the show jumping. His owner Miranda was jumping every fence with him, that clear will come. Coco was fresh again in his dressage, but next time I will work him in more and all will be fine. Figgy was just out to do the dressage before she goes to Compiegne and she gets more relaxed all the time. Just a few more canters and we will be on our way.
The Novice track at Gatcombe was not overly difficult, just nice for early in the season; there was not a particular fence that was difficult, just a good variety. The course certainly flowed a lot better than Draycott which I found a bit twisty in some places when getting from jump to jump.
So no prizes today but all the horses are moving forwards and the horses have pulled up well. I am back tomorrow to do Silks first intermediate and Coco is having his first cross country run of the year, so watch this space.
Cheers,
Bill
Posted 26th March