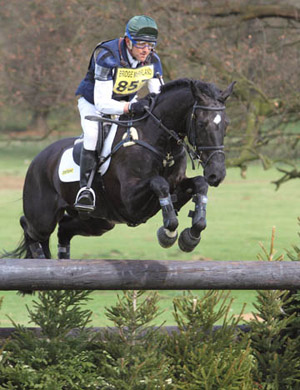 Mixed day today. Mark Phillips has built a good set of cross country tracks with plenty to do – my overall comment is that he's built it with distances that require forward, accurate, bold riding – nothing unfair and if I ride well and the horses are up for it it should ride well.
Silks and new ride Roller (pictured) were doing the intermediate. Silks was consistent again in the dressage but there is still much room for improvement. He jumped a better round in the show jumping than at Gatcombe – he was with me today, was much more settled and was unlucky to have a rail. Cross country he also went much better than at Gatcombe other than a combination on a forward two strides, parallel to skinny where he drifted off his line and over shot the skinny. He also had a look at the water which has historically been his thing but that will all come out of him soon enough I think.
Roller got tense in the dressage but has lots of ability so with time I hope she will settle as I get the measure of her. She had a stop in a combination in the show jumping but has a lovely jump and just needs time with me to develop a partnership – I've only ridden her for a few days. She went well cross country jumping clear; she has a lovely long stride and went well, she just occasionally gets a little quick over her fences but this will hopefully also settle.
I also had Harry and Coco doing their dressage for the advanced. I worked Coco a lot harder but he was still a bit of a boyo in his test – he's feeling very well. He will settle once he gets back in the groove of things this year.
Harry tried hard for his first advanced test and held his own, finishing mid field which I was pleased with. It will be a big ask to get around the cross country tomorrow and get our qualification but he's ready for it, and I will find out a lot more about him and what he thinks of the bigger fences. All will be revealed tomorrow.
Cheers,
Bill
Posted 2nd April