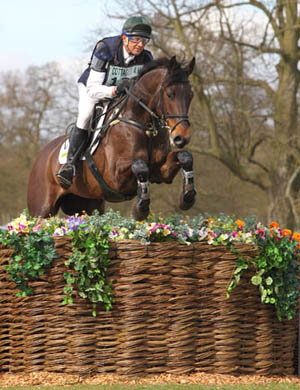 Another mixed day at Belton today – we had an early start leaving home at 4.30am in the morning as we were show jumping just after 8.00am.
The Advanced show jumping was up to height with big square fences, and the time was very tight – as an advanced should be. It certainly sorted the men from the boys and kept us all on our toes! I rode Tim first and he had three down and two time, and this will sound strange but he jumped well, much more relaxed, allowing me to ride him and make a nice shape over the fences, so despite the score I was pleased with him.
Harry (pictured) jumped clear with just one time penalty which I was really pleased with as this was his first advanced show jumping track – he's a really scopey horse with bags of ability and he's super chilled (sometimes a challenge, particularly on the flat!) which means he takes most things in his stride.
Coco was last of my three to jump and he jumped a lovely clear inside the time. I turned up to a few to make sure of the time and he has bags of scope and jump and so it all worked well.
It was then on to the cross country – Mark Phillips had created a very different track at Belton which I thought was a good test, fair with some good questions. It was big in places and required forward positive riding for some of the distances to work – and I enjoyed riding around it. The ground also held up well and was not as firm as I had feared it would be.
The combinations which caused the most issues from what I observed were a log to a bounce to a ditch then two strides to a skinny – a lot came in a bit fast to the log and then ended up clambering over the top of it, it was the kind of fence that needed riding with plenty of impulsion but not too much speed. I went the long way with both of mine, given Harry was having his first advanced and Coco was is also still inexperienced at this level.
Another influential fence was a  log, one stride into sunken road, one stride to an angled brush – this caused problems; if you lost your forward in the combination then you didn't quite get the distance on the out – I fell victim to this with Coco. With hindsight I needed to ride it more strongly but sadly Coco and I incurred our first ever cross country penalties together – I was not pleased with myself!
Harry jumped a super clear cross country – earning him his qualification to do the CIC*** at Burnham Market. He has bags of gallop and stride and so made it all feel easy, and he's also good on a line so all in all very exciting for the future.
I decided not to run Tim cross country as he doesn't need the mileage/experience and I'm still hoping (although think this is rather hopeless!) that we may just squeeze in to Badminton.
Another busy week at home working horses, but we are not competing so it will be nice to have some quality time at home focused on the horses and of course with the family!
Cheers,
Bill
Posted 3rd April