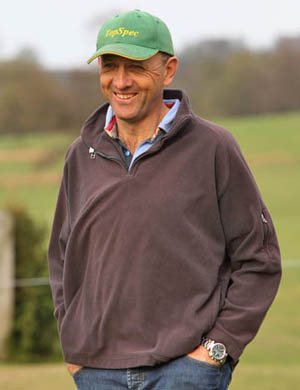 A bit behind with the blog as I've had a busy week, even though I've had the luxury of being at home!
Nick and Tom (our farrier and vet) were here on Monday to give Tim the once over in case he gets in to Badminton, to make sure all is in order. We also, with Tom's help, managed to get Tim clipped – something Tim hates and the only time he turns in to a 'raging lion'!
It was then a week of schooling for all the horses. I've been working on their flat work and trying out some new bits with Womble and a few others for the jumping phases, and getting to know Roller a little better. I do enjoy weeks at home when I don't have to go anywhere and can crack on and focus on riding and training the horses.
This week also saw the 'reveal' of the Badminton track so I've been studying the fences and have set up some exercises in the school using show jumps and portable fences to try and give myself a good chance and get in some practice jumping the types of lines and fences I'll meet there.
With Figgy out of action I've had a surprise weekend at home which has been lovely as the kids have broken up. Jenny dragged me out on a hack – thank goodness the weather was kind and the countryside around us is so lovely because it wasn't high on my list of 'must do' activities! The kids also had a good spin on their ponies although I had to laugh when I overhead Josh saying to Jenny "mummy, daddy gives me too many constructions on the lunge": this describes when I was giving him 'INstruction on the lunge'! I got so into it I forgot he was only 6 as I asked him to do X and Y with his lower leg….. Oh well, next time Ill try to give him less pointers, after all he does ride for fun!
Next week is yet another busy one, I'm at Hunters on Monday for dressage to practice the upcoming two, three and four star tests which I'm looking forward to, especially as I'm taking Hipp for a little outing to do the four star test. It will be nice to get him out and about again and I'm sure he'll enjoy it.
I'm also at Sapey and Burnham Market this week, and fingers crossed there will be some movement on the Badminton waitlist – to date they've had a very, very small number of withdrawals, 5 in total; usually they have in the order of 20-25. I still need 18 more withdrawals to make it which looks very unlikely. Never mind – what will be will be.
Cheers,
Bill
Posted 10th April