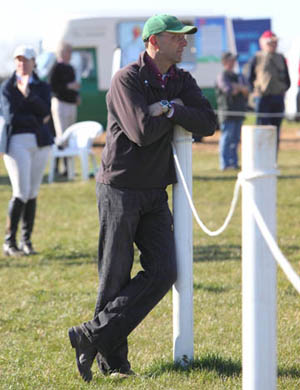 It's been rather a long day although ironically I feel less tired at the end than at the start!
I've been at Sapey today with the Novice horses – it was a busy one, with five horses entered and the Novice sections all squeezed in to the first two thirds of the day as they had BE100s to follow.
Alex, Dan and Fin all jumped double clear.  Alex did a 24 dressage, jumped a lovely double clear and felt the best he's ever gone so far. I was really pleased with him. We finished out of the running as I just went slowly.
Dan did a 37 dressage and jumped well; he's still green and lacking confidence at times in his jumping but he is improving. Fin ran a minor place with a confident double clear, he will soon be ready to upgrade to intermediate.
Womble did a nice test I thought but the judge didn't agree! He jumped a lovely show jump round and was unlucky to have the last fence and then went well cross country, another change of bit seems to be doing the trick.
Moose did a 36 dressage and was quite settled so I was surprised he didn't get a better score. I was then very disappointed with his show jumping – he had five down. He gave me a good ride in between the fences but just didn't get his legs out of the way. I had changed the bit and so will go back to the rubber snaffle and see if that helps as he had been jumping so much better – horses, they are not machines.
After Sapey it was a quick dash home to change over horses and head to the gallops with Harry and Coco for a pre Burnham Market canter and to give Tim a canter in the vain home he gets in to Badminton, athough there remains very little movement on the waitlist so I really fear it is not meant to be after all of the preparation – it will be heart breaking but I think it's inevitable.
Cheers,
Bill
Posted 12th April