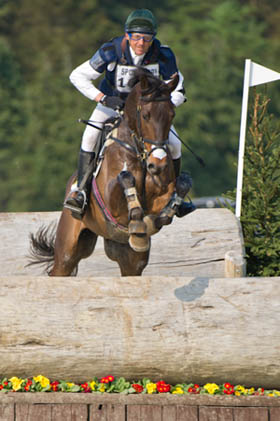 Just finished a very good day at Burnham Market. I was umming and ahhing about whether to run my horses but with no rain due for the next few weeks and qualifications needed I decided to run them all slowly. The team here at Burnham Market have worked hard on the ground, aerovating and watering where they can, so it was as good as it could be with no help from the heavens.
Silks jumped a double clear in the two star, I went steady and he finished 10th. He feels like he does it all very easily, he held on his line well, was willing to come back to me and listen – all very pleasing for such a new partnership.
Coco also jumped a double clear. I went steady on him cross country and he still finished 4th in the CIC 3 star. He will have benefited from the run as there were a lot of educational fences on the track.
Harry also went well having two down show jumping, one of which was my fault, but I was still pleased. I was thrilled with him cross country as he jumped a lovely clear gaining his qualification and doing it all very easily. He has a good brain and just seems to take it all in his stride, he has scope and a gallop stride to burn. He has come on a lot from the horse that I got eliminated on at his first two pre novices!
All in all the courses were very educational with lots of variety and trouble spread around the track. They have built a new sunken road, in over skinny barrels, one stride in the bottom and out over a skinny flower box which was a good educational fence. There were also some silver birch open corners in the course which always seem to cause trouble – I'm not sure why.
So a good day with Harry securing his qualification for Bramham and Silks for Houghton.
We are still playing a waiting game for Badminton so fingers crossed.
Cheers,
Bill

Posted 17th April