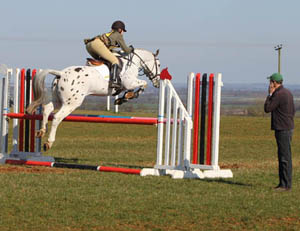 It was an all lady affair (bar me) at Sapey today as I was riding Minty and then Jenny, Thea and Eleanore were also competing. Minty completed her last event at Intro and I feel she's ready for BE100 now, she jumped another nice double clear. She was a little more tense in the dressage but still obedient and with time the flat work will continue to improve and she should score competitively. She jumped well in the show jumping and was listening to me cross country, after the first few fences she got in to her stride and was positive all the way around. Her next outing is BE100 at Milton Keynes.
Thea and Eleanore had a good day despite finishing out of the ribbons. Thea jumped a double clear on Bob but was off the pace in the dressage – this will come as her partnership with him builds. Eleanore did a good test and just tipped one rail show jumping, but Clover had a 'naughty' stop at the water cross country letting Eleanore down a little, but again this will all improve and I'm sure both girls will be in the ribbons soon.
Jenny had a day to forget bar the dressage where both horses went well, Mac leading his section and Bluey scoring in the low 30s for the first time, however both had cheeky run outs in the show jumping and she then didn't run cross country. Back to the drawing board.
It was then home for me to have a chance to school the Burnham Market horses and for the girls to begin packing and sorting the lorry for staying away in Norfolk.
Cheers,
Bill
Posted 13th April