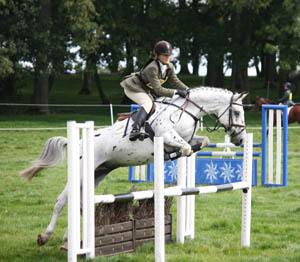 I should be doing my dressage at Badminton today, or rather would have been if I'd gotten off the waitlist, as I was number 39. Instead I spent the day at Broadway with Jenny and the kids. Broadway is one of our local events, always popular and as a consequence ballots often. Jenny entered her two, known affectionately at home as Spotty (Bluey) and Stripey (Mac), hoping for a better run than she had at Sapey.
To cut a long story short both behaved in the dressage, jumped lovely show jump rounds but didn't run cross country as the ground was very firm. Sadly this was not surprising given we've had no rain for more than 12 weeks – disappointing as it's expensive combined training but sometimes it cannot be helped.
Josh and Ursula enjoyed themselves as Broadway has a great sweet stand and I'm a sucker, and they also got a trip home with mummy in the lorry.
Cheers,
Bill

Posted 22nd April