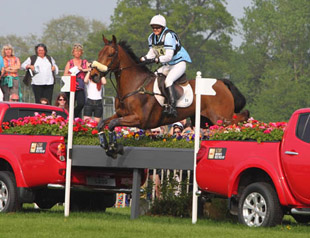 It's been an action packed day at Badminton and it's a good job I'm not a betting man as this morning while Jenny and I were working horses I said I was concerned that this year Badminton might be rather a dressage competition! With the quality of the field, the fast ground and in my view, slightly easier track than last year I was this morning convinced more than a dozen would come home inside the time. How wrong I was!
For me there were several class rides of the day for example Andrew Nicholson, particularly on Avebury – a horse that's been knocking on the door for a while. He is such a class rider cross country, never hassles his horses but always travelling, and Marina Kohncke and her beautiful mare looked really class. My good mate Sam Griffiths also had a great ride round, back to his best with Happy Times, and Cinda looks like she's found a great replacement for Brit in Prada who has stride and engine to burn, finishing full of beans! Toddy did a great job nursing a young horse round in Land Vision as did Piggy with Jakata.
As always there were several hard luck stories including Oliver who I thought rode a brilliant round, riding with real intelligence to make the track work for his horse – eg at the sunken road. He sat like a limpet when the horse left knees at the Lake, Huntsmans and finally the Quarry – I question if the horse has the stamina for the CCI 4 star level or maybe he could get it fitter still, but I doubt Oliver left this stone unturned. The horse is not quick in front when tired and there is only so much Oliver can do to lift it over fences at the back end of the course – it's a quick horse but may be better suited to 3 star or CIC formats where it is unbeatable on its day. Ruth also had another bad day – she's a class rider and in short she needs a better horse; Two Thyme doesn't have the desire to do it enough when the chips are down and he needs to dig deep – it is no reflection on the quality of Ruth the jockey, she's a class act and will have her day – we should all be worried when she has PC Wilson back on the road. Other hard luck stories for me were Gemma Tattersall at the Quarry, Aiofe Clark on her second ride Master Crusoe (one of my favourite horses), and Sarah Wardell at the Lake.
Spectacular saves for me included Gwendolin Fer at the Colt Pond, William at the Outlander Bank, Polly (and Westood Poser!) at the Farm Yard and Toddy at the Quarry who used one of his 9 lives for sure.
Finally I was thrilled to see Joy Dawes (pictured) go clear at her first 4 star, not that they showed much of her despite my yelling at the tv from the sofa! Fin is her horse of a life time and she rode him with complete belief in him. He's a class class horse and she's a lovely lovely lady, and competent too! She'll be back and next time will give them a run for their money!
Tomorrow will be thrilling, twelve horses within a fence of each other, I can't wait to see how it all unfolds – there's many I'd love to see win it for many many reasons, but at the end of the day my money and hopes are with Sam – go boy.
Cheers,
Bill
Posted 24th April