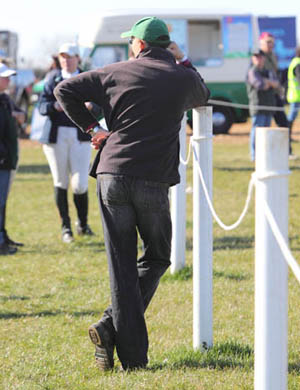 Yesterday I was at Milton Keynes with the girls, including Issy having her first ever event, and I took Minty for her first BE100 event. It was an eventful day.
I've not been to Milton Keynes for many, many years and I was pleasantly surprised by the improvements they've made to the ground and the event as a whole. They had clearly worked really hard on the ground and the show jumping and cross country ground was pretty good considering the lack of rain for weeks and weeks.
We had an eventful day – Darian, Mary and I were all doing our dressage at about the same time and all of us did OK but none of us set the world alight – still plenty of room for improvement. I then went to help Issy with her dressage as it was her first ever event, and she did a good job in the warm up with Bailey but he was rather excited to be out and promptly stuck his head in the air as he went around the outside of the arena and didn't bring it down until he'd finished – but she did stay in the ring and get the job done and things will improve as Bailey calms down and gets over the excitement of being back at a party.
While helping Issy I didn't realise they were closing the BE100 show jumping as I couldn't hear the tannoy from the dressage warm up, so to cut a long story short we arrived at the show jumping as they were putting it up to Novice height – so the only option was to jump that, so technically we withdrew from the competition (on the official record) but were allowed to go on and the good news is that Darian, Mary and I all jumped clear – I was thrilled with Minty who tried her little socks off in her first ever BE100 (now Novice show jumping), she's as careful as a cat and never looked like touching a pole. We all went on to jump clear cross country as well – so the jumping was all great. Good job we hadn't done winning dressage tests or we all may have been feeling a little glum.
Issy continued to have an eventful time as she had a stop in the show jumping going in to the double, but then got Bailey more organised and jumped a lovely clear for the rest of her round. The cross country was a bit of a work in progress as Bailey was a little cheeky stopping early on – then sadly Issy jumped a BE100 fence in error and that was that – but she got her first event under her belt and in years to come she will look back on it and laugh. I remember at my first ever event I trotted down the centre line and saluted (as in proper army salute) and the judge burst out in to fits of laughter.
Anyway a good day was had by all despite the lack of rosettes and we are all home safely in one piece.
I'm at home for the next few days working horses and teaching a bit and then off to Withington at the weekend, and rain dancing at night hoping we get the rain they are threatening on Friday.
Cheers,
Bill
Posted 26th April