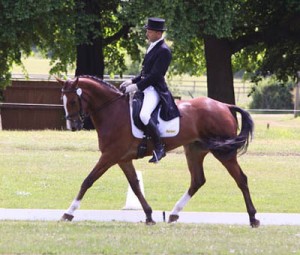 It's been a good day. Coco did his dressage this morning and went in to the lead straight after his test which was exciting. He scored 45.0 and there is definitely more improvement to come as we missed one change and I think I could have asked for more in the trot – or put better, will be able to ask for more in the trot as his flat work becomes more established and he continues to get more secure and established in the work, after all he is still only 9.
Anyway I was really pleased with him, he was very rideable and settled in the arena, the three works definitely works for him, not a massive amount of work each time. One proper work, then a good stretching session, then a final work before I go in – getting him out a couple of times and 'in the groove' definitely seems to do the trick.
At the end of the day to day with all dressage complete Coco has managed to hold on to third spot which is really pleasing behind Clayton in the lead on Bendigo who did a lovely test and deserves to be in front and then Aurelian Kahn and Lord de Ligniere.
I gave Coco a little jump this afternoon and he has had plenty of rest to set him up for tomorrow, along with Equissage and gameready cold therapy on his legs as it all helps ensure he's in the best possible shape for the cross country.
I don't go cross country until 4.25pm tomorrow afternoon which will be a long wait, but at least I will get to see a few go. I will give Coco a hack in the morning and then walk the course again and then watch how it rides.
It'll all be here and gone soon enough.
Cheers,

Bill
Posted 20th May