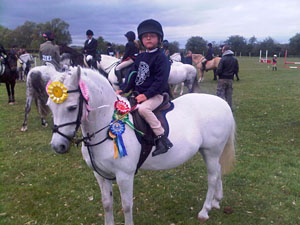 Silks passed the trot up this morning bright and early and seems to have come out of his round yesterday well. He then jumped a good clear in the show jumping, which finished things off well. I'm still gutted with yesterday's cross country as without the blip at the water he would have done very well – but such is life.
We were then pretty quickly packed up in order to be able to head home and get the horses out in their paddocks for a leg stretch and give me time to ride Harry this evening. I gave Harry a jump in the school over some accuracy questions and over some cross country 'lines' to get him thinking in the groove for Bramham.
The kids had been at their annual pony club show today and had a ball by all accounts, coming home with a fistful of rosettes and proudly telling me that they had each jumped three double clears including the one foot six unassisted! They are coming on in leaps and bounds and it was great to see them enjoying a fun day out with Jenny and also some of their friends as we had good friends staying last night who went to the show with Jenny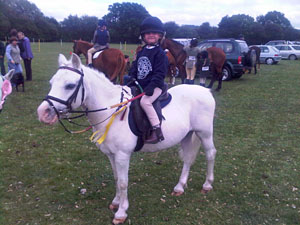 and Grace today.
So all in all a good day for Team Levett. A welcome day at home tomorrow to give us all time to catch our breath, do some washing, turn the lorry around and ride a few horses before we head to Bramham on Tuesday lunchtime. Harry has a final canter tomorrow Monday and seems on good form. We did some trot up practice with him this evening as he's such a grump to trot up and not keen on showing himself off well – if he was a human you'd say he likes to slouch along. So it's important for me to practice with him to get him in the groove for that phase as well.
Will keep you all posted.
Cheers,
Bill
Posted 29th May