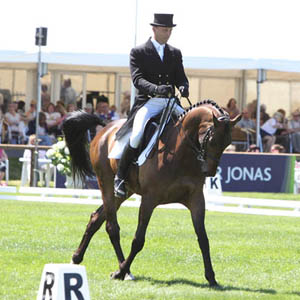 Well as anticipated I'm sadly not at the top of the leader board after the dressage BUT I'm not expecting it to be a dressage competition. The dressage is currently Harry's toughest phase as he's not that established in the work at this level and he also finds the work hard. He's not a naturally forward horse and therefore it is hard to get the expression of paces and quality in the work, with him really pushing through from behind, at the moment to score the top marks. It will improve but it will take time.
Overall I was pleased with Harry's test, some bits were nice for example three 7's for his entry but there were mistakes – he broke in his extended trot and the quality was lacking in parts for example the changes. So overall while I was pleased for where he is at we didn't score very well. I was hoping when I came out for a score in the high 50s but scored a 60, so not much in it but we are off the pace. My goal now is to try and finish onthis score.
Tomorrow is another day and I will find out a lot about Harry tomorrow. Watch this space.
Cheers,
Bill
Posted 3rd July