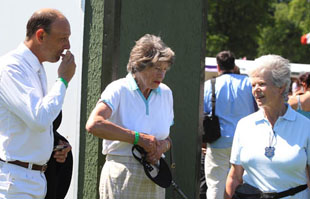 As I write this we are just about to head home from Bramham as sadly Harry and I parted company at the fourth fence and so our cross country experience today was short lived.
Gutting – thankfully neither Harry or I were hurt although I don't bounce as well as I used to, but I'm really really gutted for Harry's owners Carol and Veronica as they have been such loyal and generous long term supporters and I would dearly love them to have some success with Harry. But this time it wasn't meant to be.
I was really surprised with Harry today, I don't know why but he was really 'looky' at the fourth fence, something he's never done before. I don't know if it was the crowds that took him by surprise or what  – I think a combination of going a bit green and being a bit naughty and not quite enough luck. In short he went green and backed right off the first part of the fourth fence. I got him over that and slipped my reins and then we had a related line to a narrow lion and I think we must have drifted slightly off our line and he caught his knee on the lion's head, tipping me out the front door and landing on his knees himself. One of those things.
The course caused a lot of trouble particularly at fence four and the water – although despite my personal problems with the track today I still think it was a great track and I like the tracks Ian Stark builds. They are imaginative and require bold attacking riding, so I hope to see more of his course designing over the years.
So we've packed up and are going to head home. Sadly there are no more three days we can reroute Harry to this spring and maybe that's no bad thing, we will give him more experience at Advanced level and have a crack at Blenheim or Boekelo in the autumn.
On a brighter note I hear the kids again out did me today, coming second at the local Chipping Campden fayre in the fancy dress with several of their friends – they went as the Wizard of Oz – Josh as the 'Lion' and Urssie as the 'Tinman'. I'm sure I'll hear all about it tomorrow.
I'm looking forward to several months at home now with some nice horses to focus on. My spring has been mixed and pretty much the typical life of an event rider, with some highs e.g., Saumur and some lows not far behind e.g., today but we'll crack on as I'm still enjoying it and with the support of a great team I still feel my best is yet to come.
Cheers,
Bill
Posted 4th June